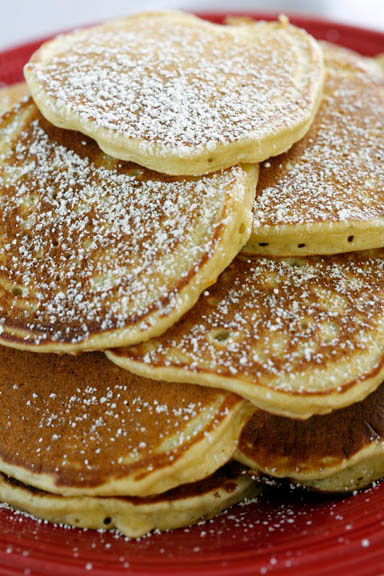 Orange-Ricotta Pancakes

Admit it. Those of you with a Viking range, rangetop or cooktop with a griddle, or even those with one of these appliances and a portable griddle accessory, like to show it off when the opportunity arises. We get it.

We're always on the lookout for new ways to make the most of our griddles, from toasting up perfect garlic toast, to making fajitas, to the ultimate griddle favorite…pancakes.

These Orange-Ricotta Pancakes will be a nice change of pace the next time you want to heat up the griddle. The batter can be made ahead and refrigerated overnight. They're wonderful for a weekend brunch with family and friends, especially if you're in the mood to show off your Viking gear.


1 cup flour
1 tablespoon baking powder
1/4 teaspoon salt
1 15-ounce container ricotta cheese
2/3 cup milk
Zest of one orange
2/3 cup freshly squeezed orange juice
1/4 cup brown sugar
4 eggs, separated
1 tablespoon canola oil
Butter, for serving
Confectioners' sugar, for serving
Whisk flour, baking powder and salt together in a medium bowl. Set aside. Whisk ricotta, milk, orange zest and juice, brown sugar, vanilla and almond extracts and egg yolks together in a medium bowl. Set aside.

In another bowl, beat the egg whites with an electric mixer to soft peaks. Combine the dry ingredients with the wet and then gently fold in the beaten egg whites.

Heat griddle over medium heat. Drizzle with the oil, wiping away excess with a paper towel. Drop batter onto hot griddle 1/4 cup at a time. When bubbles appear on the top of the pancakes, turn them over and brown on the other side. Cook until done in the center, about 2 minutes. Serve immediately, with the butter and a sprinkling of the confectioners' sugar.

M

akes about 2 dozen 3-inch pancakes.