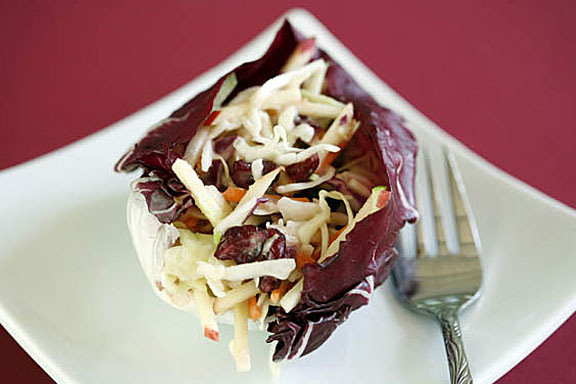 Crunchy Cran-Apple Salad

Cranberries are a holiday tradition, whether they decorate the Christmas tree or adorn the holiday turkey in the form of cranberry sauce. This recipe for Crunchy Cran-Apple Salad features dried cranberries in a delicious, light addition to your next holiday meal.

This coleslaw-like salad packs a sweet crunch from shredded apples, and I like to use two kinds of apples for added interest. Shred the apples in a snap using your Viking Food Processor. The apples are combined with a bag of shredded cabbage for coleslaw, saving you a bit of preparation time. However, if you'd like to shred the cabbage yourself, you'll need about half a head of green cabbage.

The salad is tossed with a sweet and tangy dressing with a creamy base of vanilla yogurt. Serve the salad in little radicchio "bowls" for a festive presentation and sprinkle each serving with some roasted, salted sunflower seeds before serving.



Dressing




2 tablespoons packed brown sugar
1/4 cup plum, raspberry, red wine or cider vinegar
1 6-ounce container nonfat vanilla yogurt
Sea salt and freshly ground black pepper, to taste
Salad
1 large Granny Smith apple, shredded
1 large red delicious, shredded
Juice of 1/2 lemon
1 12-ounce package shredded cabbage for coleslaw
1/2 cup dried cranberries
2 tablespoons unsalted sunflower seed kernels
3 small heads radicchio or 2 small heads butter lettuce, for serving the salad
Whisk all of the dressing ingredients except the salt and pepper in a small bowl. Season with salt and pepper and set aside.

Place shredded apples in a large bowl. Drizzle with lemon juice and toss to coat well. Add cabbage and cranberries and toss. Pour dressing over the top and toss to coat well. Cover and refrigerate until ready to serve, up to 3 hours. To serve, place a leaf of the radicchio or butter lettuce on a salad plate and top with some of the salad. Sprinkle with the sunflower seeds.



Makes 8 (1 cup) servings.