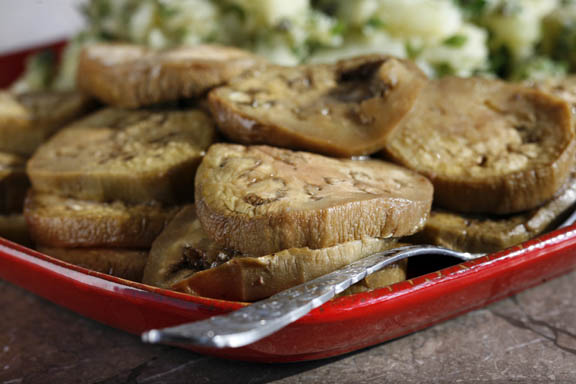 Marinated Eggplant

This tasty Sicilian-inspired antipasto highlights eggplant's meaty texture while flavoring it with a garlic and bay-infused vinaigrette. Serve as a plated starter in our Flavors of Sicily menu and then serve leftovers on thick Italian bread layered with sliced tomatoes and provolone cheese.

2 large, firm eggplants, peeled and cut into 1/2-inch slices
Olive oil
Sea salt and freshly ground black pepper
1/2 cup olive oil
2 cloves garlic, smashed and peeled
1 bay leaf
1/2 cup red wine vinegar
Preheat oven to 375 degrees. Line a baking sheet with foil and drizzle with olive oil. Spread the eggplant slices over the pan and drizzle with a little more olive oil. Sprinkle with salt and pepper and bake for 20 minutes.

Prepare the marinade by placing the 1/2 cup of olive oil in a small skillet with the smashed garlic and bay leaf. Simmer over medium heat until the garlic is fragrant and begins to turn golden. Remove from the heat. Remove the garlic from the oil and discard. Add the vinegar and set aside.

Place a layer of the eggplant in a plastic storage container with a tight fitting lid. Sprinkle with some of the olive oil mixture. Continue layering the eggplant and drizzling with the olive oil mixture until all are used. Seal the container and then turn it over to distribute the marinade. Serve at room temperature. (Alternately, the eggplant can be refrigerated overnight. Bring to room temperature before serving.)



Makes 8 servings.