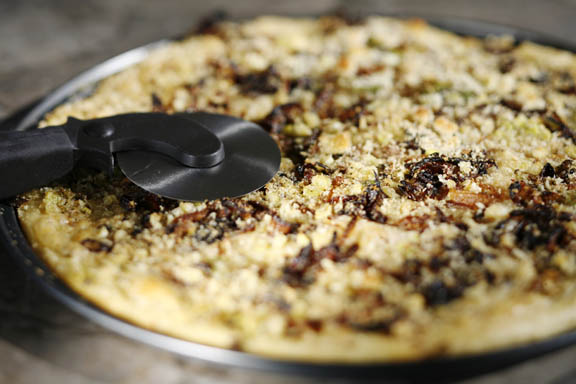 Sfincioni

This fragrant anchovy and onion pizza is more likely to be found in a bakery than in a pizzeria in Sicily, and it is fun to make at home. Instead of a tomato base, the crust in this Sfincioni is brushed with a combination of anchovies and extra virgin olive oil. Caramelized onions give this pizza a flavor similar to Pissaladiere (a French pizza with a crust of puff pastry) without the olives. Salty, melted provolone cheese and a sprinkling of breadcrumbs, grated pecorino and some chopped scallions complete this flavorful pizza.

Serve your Sfincioni as the first course in our Flavors of Sicily menu, or serve for lunch with a tossed salad.



For the crust:



1 cup warm water (105-110 degrees)
1 envelope rapid rising yeast
3 cups all-purpose flour
1/2 cup finely grated pecorino-Romano cheese
1 teaspoon salt
1/2 teaspoon black pepper
2 tablespoons olive oil, plus more the bowl for the dough

Put the warm water in a bowl and sprinkle the yeast over the top. Set aside and let stand until creamy.

Combine the flour, cheese, salt and pepper in the bowl of a stand mixer fitted with the beater blade. Turn the mixer on low to combine the dry ingredients. Add the olive oil to the water and yeast mixture and then add to the dry ingredients. Beat until well combined. Replace the beater with the dough hook and knead the dough on medium speed for 5 minutes.

Oil a large bowl and place the dough in the bowl. Turn to cover the dough on all sides with the oil. Cover with plastic wrap and let rise for 1 hour, until doubled. Punch down dough and spread in a 12-inch pizza pan. Set aside to rise while you prepare the toppings.



Toppings:



5 tablespoons olive oil, divided
1 large onion, peeled and thinly sliced
4 anchovies
12 very thin slices provolone cheese
1/2 cup fresh breadcrumbs
1/3 cup finely grated pecorino-Romano cheese
2 green onions, thinly sliced
Oregano, salt and pepper, to taste
Preheat oven to 400 degrees. Heat 2 tablespoons of the olive oil in a large sauté pan over medium-high heat. Add the onions and sauté until caramelized, about 15 minutes, stirring occasionally. Set aside.

Mash the anchovies and the remaining three tablespoons of olive oil together in a shallow bowl. Set aside.

Spread the anchovy mixture over the dough. Place the cheese slices on top and spread the sautéed onions over the cheese. Combine the breadcrumbs, grated cheese and green onions in a bowl. Season with oregano, salt and pepper to taste and sprinkle over the onions. Bake for 15-20 minutes, until crust is golden.



Makes 8 servings.