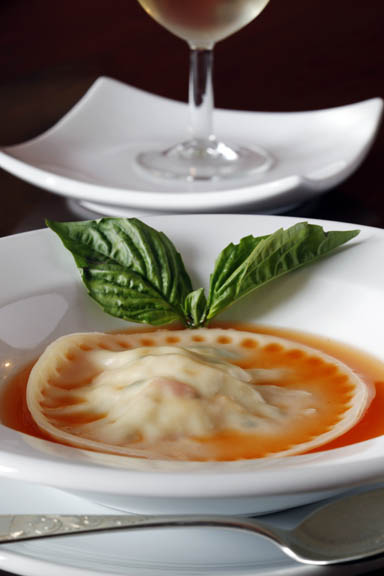 Crab Ravioli in Red Pepper Broth

Homemade ravioli can be a labor of love, or it can be whipped up in a snap using prepared eggroll or wonton wrappers from your grocer's produce section. By using the purchased pasta sheets, these luscious Crab Ravioli in Red Pepper Broth offer a restaurant-style preparation that can easily be accomplished at home. The dish makes a wonderful first course with a glass of Pinot Grigio.

If you own a china cap (a conical sieve) with a stand and a wooden pestle, your work on the Red Pepper Broth will be much easier. If you don't own one, you can strain the mixture through a fine strainer and then wrap the pulp in cheesecloth or a clean kitchen towel and squeeze out the remaining liquid.



Crab Ravioli in Red Pepper Broth





For the Ravioli:



1 package wonton wrappers
8 ounces fresh jumbo lump crab meat
1/4 cup chopped fresh basil
1/2 cup ricotta cheese
1/4 cup diced red bell pepper
Sea salt and freshly grated pepper, to taste

Fold crab and other ingredients gently in a bowl to mix. Season with salt and pepper to taste. Fill the wonton wrappers with the filling and place the filled ravioli on a parchment-lined baking sheet. Cover with plastic wrap and refrigerate.



For the Red Pepper Broth:



5 red bell peppers, cored, seeded, and thinly sliced
2 shallots, peeled and thinly sliced
3 cloves garlic, thinly sliced
Coarse sea salt
1/2 cup dry white wine
2 small dried bay leaves
5 sprigs fresh lemon thyme
Fresh basil leaves, for garnish

Place the peppers, shallots, garlic, and a pinch of salt in a Dutch oven over medium-low heat. Cook, stirring, until vegetables shallots are translucent, about 5 minutes.

Increase the heat to medium-high, add the wine, and bring to a boil. Cook until reduced by 2/3, about 4 minutes. Add enough water to come up to the level of the peppers. Bring to a simmer. Stir in the bay leaves and cook for 15 minutes. Remove from heat and stir in the thyme. Let stand until room temperature; strain through a fine-meshed sieve. Makes about 2 cups or broth. Keep warm while you cook the ravioli.

To serve: Cook the ravioli in a large pot of salted water for about 3 minutes. Drain and place on individual appetizer plates. Spoon some of the red pepper broth over the ravioli and garnish with fresh basil leaves.



Makes 8 servings.