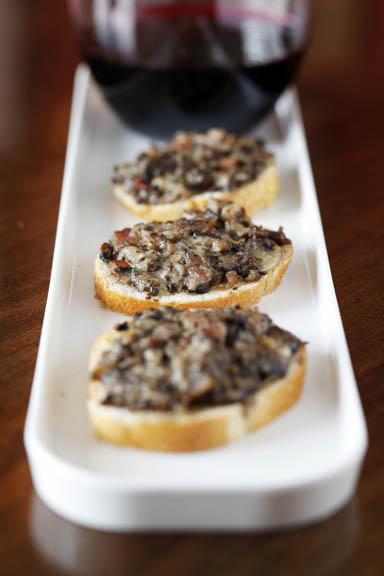 Mushroom and Blue Cheese Crostini


Earthy fresh mushrooms. Sharp, tangy blue cheese. If just reading about these ingredients makes your mouth water, you'll love these rich Mushroom and Blue Crostini. Both flavors, along with salty pancetta and a little garlic, means these crostini pair well with a hearty red wine. Serve these at your next cocktail party, just make sure you actually save some of the mushroom mixture for your guests, instead of eating it directly from the skillet with a spoon! The recipe is based on one from the cookbook Par Three, Tea-Time at the Masters.



Mushroom and Blue Cheese Crostini



3 tablespoons butter
1/2 cup diced pancetta
1 pound assorted fresh mushrooms, cleaned and coarsely chopped
2 garlic cloves, minced
1/2 cup heavy cream
1/2 cup crumbled blue cheese
Sea salt and freshly ground black pepper, to taste
18 (1/2-inch) diagonally sliced sourdough baguette slices
Olive oil
Chopped fresh parsley
Melt the butter in a large heavy skillet over medium-high heat. Add the pancetta and sauté until golden, about 5 minutes. Add the mushrooms and sauté for 10 minutes, until mushrooms are golden brown. Add the garlic and sauté for 1 minute more. Add the cream and cook until all of the liquid is absorbed. Remove from the heat. Add the blue cheese and stir until the cheese melts. Season with salt and pepper. (The topping can be made one day ahead. Cover and chill until needed)

Preheat oven to 375 degrees.

Arrange the baguette slices on a baking sheet. Brush with the olive oil. Bake for 5 minutes or until golden brown. Top each slice of bread with 1 generous tablespoon of the mushroom mixture. Bake for 6 minutes or until heated through. Sprinkle with the chopped parsley.



Makes 18 crostini.