Designers and architects are an integral part of Viking's business. A lot of you work behind the scenes specifying the product for your customer's dream kitchen and then directing them to purchase at the appliance retailer that you have a relationship with. Viking has created several online tools to assist you specifying our product, from our MVP quotation tool, to CAD renderings and 20/20 support*. Viking also acknowledges the best designs with our annual Design Competition which provides the winners with both a financial reward, as well as trade acknowledgment in targeted upscale home shelter publications.
Viking Range wants to acknowledge all certified kitchen designers and architects for their efforts, by initiating a VIKING SPECIFIER SALES INCENTIVE PROGRAM. The program is very simple: For every Viking Product specified that results in a sale, we will pay you 2%** for all major Viking Products, or you can accrue and use these funds towards the purchase of Viking Product instead of cash if preferred.
WHO IS ELIGIBLE - Any independent kitchen designer or architect that specifies but doesn't sell Viking appliances directly to the consumer.
HOW TO REGISTER - Complete the simple form on the back and submit to your local Viking DSM or email this directly to Viking: tkitching@middlebyresidential.com
HOW TO CLAIM INCENTIVE - Submit copy of your quote, along with copy of the Dealer's invoice with the total amount claimed to spiffs@middlebyresidential.com***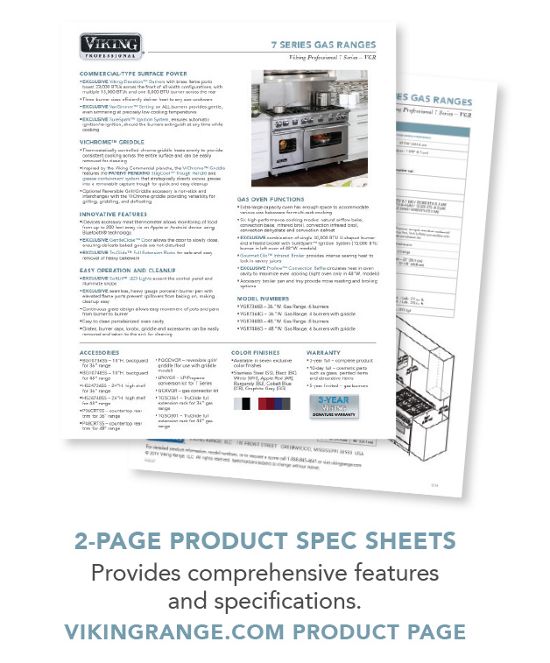 *Available on vikingrange.com **Incentive will be taken off the net (before sales tax, freight, special handling fees, etc.) sales price for any major Viking appliance (serialized units only). Incentive will be applied on the current published UMRP, or sales invoice value, whichever is less. Cannot be combined with any other consumer or trade promotion. Submit incentive claims directly to tkitching@middlebyresidential.com or mail to address listed on back of form. All incentive claims or product redemptions for credits earned, must be received and/or claimed by January 15, 2022.