Planning and Design Resources | Featured Designer
Janie K. Hirsch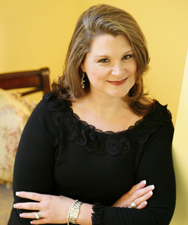 Janie's father was an architect and watercolor artist, "So it was natural for me to go into interior design," she says. About five years ago, Janie was introduced to Viking products when she attended a demonstration at HADCO, the Viking distributor in Atlanta. "I could see the difference," she says. "Viking always outshined other products in everything, including style and ease of use."
Natural textures and a mixture of warm gold and cool gray tones set the mood in the kitchen Janie designed for a 4,300-square-foot Italian farmhouse style home in the Westbrook neighborhood near Cumming, Georgia. Combined with the sleek, clean lines of the Viking stainless steel finish, the overall look is one of tailored and timeless sophistication.
Whether she's designing the interior of a new home, or working on a remodeling project, Janie says Viking products are among the first things she shows her clients. "A lot of people are already familiar with Viking because it's a top brand," she notes. In addition to the large variety of products and styles, Janie says she and her clients love the great function and versatility Viking offers, including options such as griddles for rangetops.
This year, Janie, who has received numerous local, regional and national design awards for personal homes, show houses and model homes, decided to form her own company (www.jhirschinteriors.com). Her office is in her home, but she says she's able to introduce her clients to the entire spectrum of Viking products thanks to VikingFeaturedDesigner.com. "It's great!" she says. "It's very helpful because it offers a combination of photographs and technical information. I can print spec sheets off the Web site."
For more information about Janie, visit
www.jhirschinteriors.com
. or download a PDF of her story
here
.
See more of Janie's
designs
.