Planning and Design Resources | Featured Designer
Lori Carroll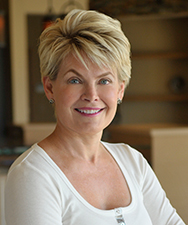 Lori Carroll, a kitchen designer from Tucson, Arizona,is the January Designer of Distinction in the 2015 Viking Kitchen Design Competition. Designers from around the United States are vying for the coveted honor to become the 2015 Viking Designer of the Year to be awarded in November

Lori Carroll, Principal of Lori Carroll & Associates, is one of Tucson's most sought after designers. As a graduate of the University of Arizona, with a Bachelor of Science degree in Interior Design, Lori has always loved the casual lifestyle the desert southwest has to offer. But Lori's unique sense of style goes way beyond any Southwestern stereotypes. Her refined, yet livable interiors are an artistic blend of sophistication and comfort.

The winning kitchen design, The Wayne Kitchen, is an open-concept kitchen surrounded by the most incredible scenery. This custom home, with amazing views and incredible architecture, holds a mystical allure and the kitchen merited a design plan that would maximize its transcendent presence and culinary functionality.

Objectives of the project included creating a magnificent kitchen that showcases the homes unique architecture, showcasing the stunning views, optimizing the functionality of the open floor plan, specifying the latest Viking appliances and designing a concealed pantry. Challenges included designing around a large center island, free-form granite fabrication, seamlessly blending cabinetry and appliances for a cohesive look and unifying each of the surrounding living areas.

Solutions were to install cabinetry and position the appliances along the exterior wall enhancing the open feel, along with adding additional storage to the center island and creating multi-level countertops to expand prep zones and accommodate island seating. Special features of the kitchen are Viking Professional appliances, including Viking Refrigeration with custom panels to match cabinetry, custom bronze, round penny mosaic backsplash, large pantry concealed behind cabinetry doors, and mystic wave polished granite.