Planning and Design Resources | Featured Designer
Tom Collins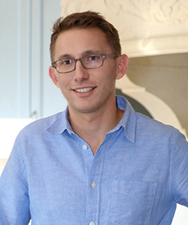 Viking Range, LLC, the leader in residential kitchen technology, has named Tom Collins as the First Quarter Designer of Distinction. Tom is a designer and the owner at Colmar Kitchen Studio in Margate, New Jersey and Avalon, New Jersey. Designers from around the United States are vying for the coveted honor to become the 2018 Viking Designer of the Year.
Tom describes the project below:
Right from the beginning, these clients made it clear that this was not going to be the average beach-house kitchen. There was no mention of white shaker, no mention of coastal blues. Quite the contrary. The task given was to create an industrial kitchen. Charcoal stained maple cabinets pop against the background of brick veneer. The reclaimed brick salvaged from old buildings in New England was wrapped into the windows to give the appearance of an authentic brick wall. The stainless steel Viking appliances are complimented by custom made stainless steel floating shelves. The island was placed on rustic iron casters and the four corners capped with riveted stainless steel corners. The commercial stylings of the Viking range, hood, and refrigerator anchor the design theme.
More about Tom Collins and Colmar Kitchen Studio:
As a Jersey Shore local with a lifestyle enriched in coastal design inspiration, Tom Collins acts as both an experienced designer and the owner of Colmar Kitchen Studio. Tom was born and raised in Margate, NJ and began working for the family business as early as eight years old. He decided to study at Villanova University where he earned his Bachelor of Science in 2001. After school, Tom spent time living and working in New York City, but ultimately returned home to the family business. He has continued Colmar's success as the shore's resource for premier kitchen and bath design. Tom's design influence is built on clean, simple and serene interiors that accomplish a spacious, simple feel while never losing purpose. He believes that "form doesn't have to follow function; that there can be a marriage of the two principles, each with equal importance." Tom also knows that the process of a kitchen or bath remodel can be intimidating, but that taking the time to listen and learn about the client's daily life truly helps to create an ideal, operative space. "Our role as kitchen designers is to be the calm influence that helps our customers navigate through the process, helping them create a space that brings them joy every day." More information about Tom and Colmar Kitchen Studio can be found on their website www.colmarkitchenstudio.com.
"