Viking Kitchen Design Competition | Featured Designer
Katherine Lynn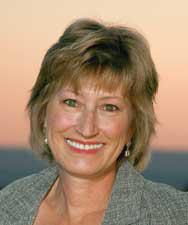 In the Albuquerque, New Mexico home Katherine Lynn designed, every element, from the ceiling down, was carefully selected to preserve the line of sight to the Sandia Mountains on the east side of the house, including the kitchen. Katherine used a 36"W. gas cooktop with a rear downdraft to provide an unobstructed view through the huge glass windows on the side of the house.

"I try to use Viking appliances in everything I design," says Lynn, who's been involved in the kitchen and bath industry for more than three decades.

In addition to their exceptional performance and craftsmanship, Lynn says Viking appliances offer an outstanding range of design options.

In this case, the Graphite Gray Viking Designer Series was perfect for the color scheme of the home, she adds.

Katherine opened Juniper Ridge Designs in 1991 and is a member of the American Society of Interior Designers (ASID) and the National Kitchen and Bath Association (NKBA). She works from a home office in Placitas, New Mexico and also maintains a presence at Eric Spurlock, LLC in Albuquerque.

For more information about Katherine, download a PDF of her story here.
See more of Katherine's photos.