Viking Kitchen Design Competition | Featured Designer
Robin Amorello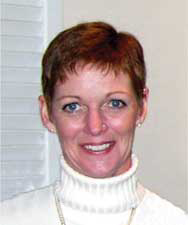 Robin Amorello began her career by accident, and only discovered her interest in design by picking up the skills she needed to along the way. After studying art history in school, Robin spent 12 years in the world of art gallery management and founded Mad Matter Framing in 1988, which specialized in hand cut, painted matting and custom framing. Soon after, Robin began the renovation of her own home and it became a life-changing event that led to a career switch. "I ripped apart and put back together my first home, a 100-year-old farm house in the early 90s," she says. "I fell in love with construction and went back to school to study computer aided design."

In 1995 she was hired by JM Contracting in Parsippany, NJ as a draftsperson. Her role evolved into designer and project manager positions over the next five years. "This is where I was thrown into the world of kitchen design," says Amorello. "Like most people who land in this profession, I went through a trial by fire."

After moving to Topsham, ME in 2001, she continued working as a designer while studying to earn her CKD, which she achieved in 2004. She then joined Maine Kitchen Design and has been designing spectacular kitchens ever since.
For more about Robin, download a PDF of her story here.
See more of Robin's photos.