Toaster Recall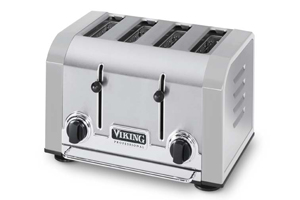 IMPORTANT PRODUCT RECALL NOTICE
Dear Valued Viking Customer:
If you have previously purchased a Viking Range, LLC Model VT 400 Toaster, please be aware of the following.  Viking, in conjunction with the U.S. Consumer Product Safety Commission, is recalling this product. Viking has received five reports that consumers experienced minor electrical shock from these toasters.  Although Viking has not received any reports of personal injury or property damage, please stop using your toaster immediately AND unplug it, even if it has been used without incident.  Viking no longer carries toasters, but will replace any VT400 4-Slot Toaster with a new Viking Butter Warmer or similar item at no charge to you.
PLEASE FOLLOW THESE STEPS IN ORDER TO OBTAIN A FREE PIECE OF VIKING COOKWARE:
•    Please call our toll free recall number, (800)-241-9152, Monday through Thursday, 8 a.m - 5 p.m. CST and Friday 8 a.m. - 12 p.m. CST.
•    Please be prepared to provide the call center with the following information:
1.    Name, address, telephone and email
2.    Color, model and serial number of your 4-Slot Toaster which is found on the underside of the toaster
Please call our toll-free number for additional information.
Viking Range, LLC apologizes for the inconvenience, but on behalf of its employees and partners, appreciates the opportunity to remain your preferred brand of professional-grade kitchen appliances.
If you have any questions about these instructions, please call Viking Customer Service at (800)-241-9152. We can be reached from 8 a.m. – 5 p.m. CST Monday through Thursday and Friday 8 a.m. - 12 p.m. CST.
Thank you for your understanding and for purchasing a Viking product.
Sincerely,
Viking Range, LLC