Designer Cookie Workshop: Halloween Cookies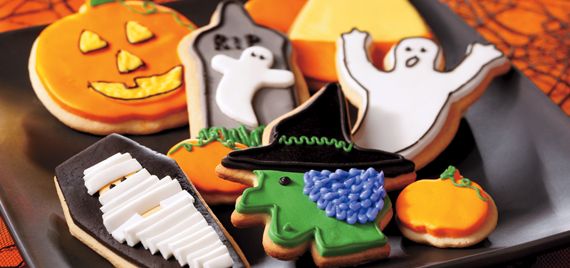 Let your imagination run wild as you use rolled fondant to turn ordinary sugar cookies into delightfully whimsical edible art. Decorate ghosts, pumpkins, witches - or candy corn! We'll have all sorts of Halloween-inspired shapes freshly baked and ready for decorating. You won't believe how easy it is to learn the basics for rolled fondant and royal icing decorating. Watch as these cookies transform from the simple to the sublime - right before your eyes. These show-stopping cookies are perfect for gift giving - or for eating yourself!
SKILLS AND TECHNIQUES Rolling, cutting and tinting rolled fondant; applying rolled fondant to cookies; embellishing cookies with royal icing.
Adult classes are designed for students 16 years of age or older.
Consuming raw or uncooked shellfish and meats may increase your risk of food-borne illness, especially if you have certain medical conditions.
This class is currently not available at this location. Please check our calendar for available class offerings.
Or check out these classes: