Balancing Act

Few homeowners contemplating a new-build could sum up their vision in 10 words or less. Yet that's exactly what Robert and Christiane Legault (know as "Kiki" to friends) did five years ago, when they asked interior designer Daniel Brisset to reinvent their summer house near Magog, Que. "A small house with a big attitude," says Kiki with a laugh. "That's what we told Daniel we wanted!"
As the French are fond of saying, Et voilà! - there you go. It sounds simple enough, but for Brisset, a Montreal designer known for timeless and traditional spaces, the challenge was to bring a restrained elegance to the Legaults' design brief. He also had to resituate the new house on its lot in a an exclusive gold community. The foot print of the one-storey home that previously sat on the lot ran along the width of the property, parallel to the street. "Many houses are built this way, and I don't quite understand it," says Brisset. "Even with a wide lot, you end up with no back yard." He proposed moving the new building's foundation to the side of the lot so it ran along the length instead. Now, the Legaults can enter a covered terrace from any room in the house to enjoy views of their garden and new pool rather than the street. It's a layout that lends itself to their summerhouse lifestyle. "We feel like we're in Provence," says Kiki. "We open the doors every morning to swim laps, and they stay open all day long. When friends or family come for dinner, we eat outside until midnight with candles and music playing. It's magical."
In keeping with the Legaults' wishes, the just-over 3,000-square-foot house feels airy and spacious thanks to ceilings that soar up to 16 feet in the kitchen, light-coloured walls and floors, and an orientation that allows for sight lines from one end of the house to the other. "There's no corridor in this house," explains Brisset. "It all flows from one room to the next.
As for "big attitude," Brisset made his statements with arched and oval windows, chunky millwork and wide-plank floors, an element the pair had admitted in Brisset's own country house (featured in H&H, April 2010). His idea for the palette came from the outdoors, which is skillfully framed by every window and french door. In the kitchen, he even went as far as to paint the ceiling pale blue. " This isn't quite sky-blue colour, but you understand the reference," says Brisset.
Apart from the soothing palette, Brisset brought calm to the interior with a studied emphasis on symmetry, something he believes is the cornerstone of good design. Every sconce and lamp has a mate, and every piece of furniture is offset by another of equal scale. Even decorative accessories, like topiaries, come in pairs. "This, for me, is key. I could talk about it for hours!" Brisset says. "Symmetry has to be there, even in contemporary styles. Why would you ever design one big window on one side and a small one on the other?"
When Robert and Kiki walk in the door after being away, it may not be the symmetry they admire, but that's the beauty of design: when it works, it's innate and almost invisible. It simply feels right. "Every time we open the door, we stop and say to one another, 'Wow. How beautiful it is.' Every time!" says Kiki. "It's our little bijoux."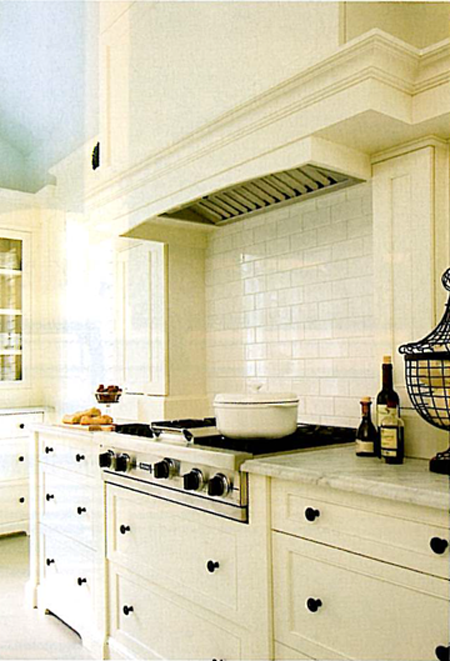 The recessed niche behind the [rangetop] is covered in subway tile. Combined with the fan's panelled stack, the area resembles a stately fireplace. The rectangular pillars on either side of the [rangetop] have touch-latch door that conceal storage for spices and cooking oils. Brisset chose simple oil-rubbed bronze knobs to draw attention to the detailing of the cabinets.