Moving Forward
When Viking Range Corp. rolled out its first commercial-style, high-end stoves more than 25 years ago, the company created a whole new market in luxury kitchen appliances. The year 2013 brought major changes at the company that helped define nor only upscale home kitchens but also its hometown of Greenwood. A new owner--Chicago-based Middleby Corp.--put its own mark on the company.
In many ways, though, its been back to the basics for Viking since Middleby bought the company on Dec. 31, 2012. The company has trimmed back a number of product lines while refocusing on the core products that made the Viking brand famous. Gone are the company's lines of small appliances, such as toasters or blenders. The Viking Commercial line, designed to be used in restaurants, was transferred over to another Middleby division.
"It's a strategy shift," said Brent Bailey, director of brand management at Viking and a 17-year veteran at the company. "We're not losing focus. We're building products, quality products." A renewed dedication to Viking's flagship lines of large appliances, Bailey said, is necessary now that the high-end market that Viking created and once defined has become crowded with competition. "We invented the niche category, but we've also brought in a lot of competition," Bailey said. "We've kind of become the ubiquitous commercial-style appliance."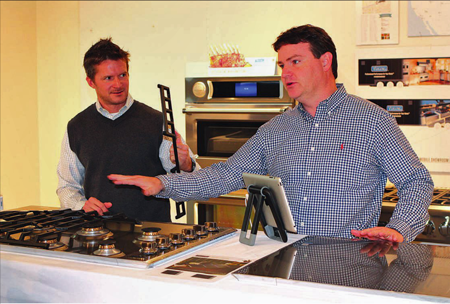 Kevin Brown, vice president for engineering at Viking Range, LLC, explains some of the features of the company's newly redesigned gas cooktops while Director of Brand Management, Brent Bailey, left, looks on.
A FOCUS ON QUALITY
In order to stand out in the increasingly crowded market, Viking decided it needed to focus on quality. Although consumers still react positively to the viking name, company executives admit quality issues had begun to pop up in some of their products. In online reviews and among retailers, Bailey said, there were growing concerns about the durability and craftsmanship of some of Viking's products.
"Quality is huge to us right now," Bailey said. "We have a reputation to overcome. We've gotten some knocks."
The company is now working to roll out a new "no-quibble" 90-day guarantee to stand behind its products. Viking's engineers have also put a lot of effort into simplifying the design of appliances to make them more durable and simpler to manufacture. Kevin Brown, vice president of engineering at Viking, said a change in the company's testing procedures--begun several years back--is also paying dividends.
"We test to failure now," Brown said. "We test to the outside tolerances, so you push the outside tolerances to make sure you're going to the extremes, whereas we used to test to pass."
Throughout, Viking has been able to count on the engineering support and experience of Middleby, a corporation that cut its teeth producing appliances for commercial kitchens, where equipment gets used roughly and breakdowns are often costly. Middleby has built a reputation for ruggedness and high quality, supplying appliances to restaurants such as Wendy's, Pizza Hut and Olive Garden. "Middleby has given us a whole lot of credibility when it comes to these new technologies."
CUTBACKS
From the company's product offerings to its workforce, this past year has seen a good deal of slimming down at Viking. The company grabbed its biggest headlines when it shed about 25 percent of its workers in two rounds of layoffs. The cuts caused a great deal of concern in the Leflore County area, where Viking was once the largest employer. But they also helped right-size a company that had seen dramatic drops in sales, Bailey said.
Annual sales at Viking, which peaked at about $450 million before the 2008 financial crisis, were down to about $200 million. "When you're a $200 million company, you just can't have the employees you did at $450 million," Bailey said.
A leaner staff and an uptick in sales have helped push up profit margins dramatically at Viking in its first year of Middleby ownership. That's impressed many financial analysts who keep track of the company, including C. Schon Williams, who covers Middleby for BB&T Capital Markets. "What's really surprised me in 2013 is how quickly they were able to improve the profitability of the business," Williams said. "It's been a dramatic improvement."
By consolidating departments, executives at the company also said they've been able to become much more agile and responsive. "I've now got project managers here that are right next to my marketing people, next to engineers," Bailey said. "We can communicate very rapidly. One of the biggest changes in this past year is the speed with which we can respond to an idea and act on it."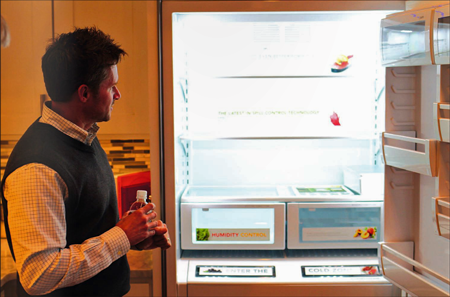 Brent Bailey, director of brand management for Viking, shows off some of the interior features of the company's refrigerators. Bailey said Viking is focused on improving the quality of their refrigerators after issues with previous models helped tarnish the brand.
A BRIGHT FUTURE
Over the past year, Viking's designers and engineers have been hard at work preparing a lineup of nearly 60 new and revamped products, all set to debut in 2014. As those products roll out--at industry trade shows and in the Viking Mobile Showroom on board a specially outfitted tractor-trailer--officials at the company are confident that sales at Viking will rise.
"All these exciting products we have coming out are going to drive sales," said Tim Tyler, director of marketing at Viking. "It'll be an opportunity to grow the company.
Among the new products set to hit stores this spring are several that integrate technology from other Middleby companies, including a Viking TurboChef high-speed oven for the residential market.
TurboChef ovens can be found in restaurants such as Starbucks and Subway, but previous attempts to market the product to the residential market fell flat. Now, with the Viking brand, distribution network and marketing behind it, executives believe the ovens could be a winner.
Williams, the financial analyst, said the same might well be true for other cutting-edge Middleby technologies. Middleby "can now take a lot of their commercial-quality product, combine it with the Viking brand and I think you've got a real winner," Williams said. "The sophistication of the equipment they're introducing on the commercial level--there's nobody else that's doing this well."
As sales pick up and new products make their way to market, executives at Viking say they're hopeful they'll be able to begin hiring again and expanding the company. Brown said the company is gearing up to begin producing its own TurboChef ovens right here in Greenwood, and plans to expand the company's refrigerator production are in the works.
"We see growth coming later in 2014 and into 2015," Bailey said.
For Angela Curry, executive director of the Greenwood-Leflore-Carroll Economic Development Foundation, the end of a turbulent 2013 that was full of change for Viking could well be the start of many good things to come. "I'm very optimistic that the changes taking place at Viking will eventually result in a stronger company and additional jobs in the area," Curry said.
Curry said she's also received assurances from Middleby that Viking is invested in the Greenwood area for the long run. It's a commitment that's echoed by the leadership at Viking. The company continues to support charitable causes in the area and is looking to invest and grow its manufacturing operations here.
"We have a responsibility to this community to maintain our quality of life because we live here," said Tyler. "We plan to continue to support the community."