Space for All
When Gale Gand bought her Chicago-area home 16 years ago, the kitchen floor was covered with indoor/outdoor carpet. "It's really hard to clean egg off of that," says Gale, sitting at the broad cherrywood counter in her now-updated kitchen. She shakes her head. "I guess that was a big trend when this house was built in the '70's."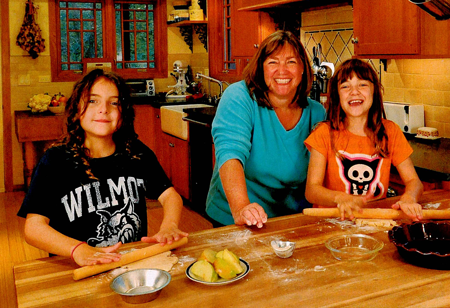 These days, the salt-and-pepper carpet is long gone, and Gale, an award-winning pastry chef, partner in the acclaimed Chicago restaurant Tru, and cookbook author (her latest is Gale Gand's Lunch!), has transformed her kitchen into a purposefully kid-friendly workplace with Arts and Crafts details and modern appliances. Gale wanted to get her children involved in cooking, so the space was renovated to give everyone in her family--Gale, husband Jimmy, son Gio, and twin daughters Ruby and Ella--room to cook without getting in each other's way.
The Layout
The original kitchen was tiny, with the sink in the same position but with a large peninsula jutting out next to it. "The oven was awkwardly placed on the wall opposite the peninsula, and when the door was open, it blocked the passageway to the kitchen," recalls Gale. "Shelves above the peninsula separated the kitchen from a sewing room, and there was no place to sit down for a meal."
The new kitchen, designed by David McNulty, remedied those problems without any major layout changes. Removing the peninsula and sewing room expanded the kitchen to include a generous wooden counter that works as both a kitchen table (with pull-up chairs) and a workspace. A wide pass-through to the dining room offers another workstation and opens the room visually, and the remaining counters and range offer enough room for all five family members to cook without bumping into each other. A high shelf runs around the kitchen above the window trim, where Gale displays her collection of vintage tin food containers and jars.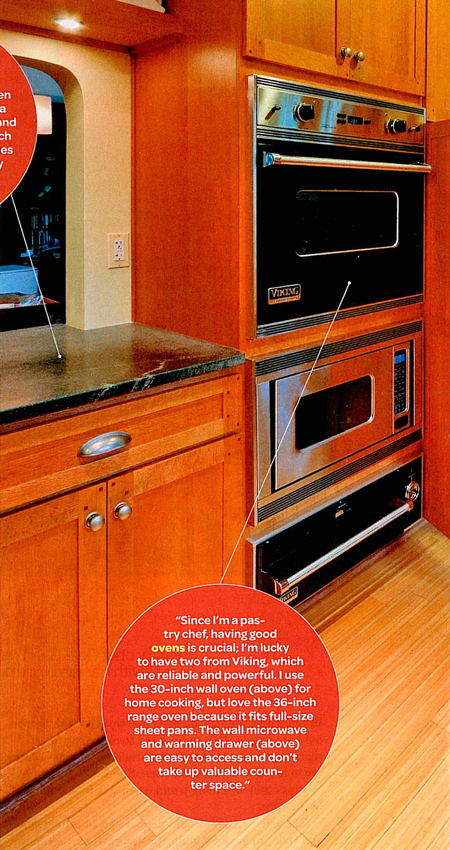 "Since I'm a pastry chef, having good ovens is crucial; I'm lucky to have two from Viking, which are reliable and powerful. I use the 30-inch wall oven for home cooking, but love the 36-inch range oven because it fits full-size sheet pans. The wall microwave and warming drawer are easy to access and don't take up valuable counter space."