Outdoor Kitchens
Cooking outdoors has evolved from burgers and steaks on the grill to more gourmet creations, made on far more sophisticated equipment. From hybrid grills and infrared rotisseries, to sleek, sophisticated cabinets and refrigeration systems - all designed to live outside - outdoor kitchens now allow home cooks to whip up entire meals and exotic recipes beyond the hot dog and potato salad picnics of the past.
According to the Hearth, Patio and Barbecue Association, nearly half of all grill owners view their outdoor grilling area as a functional cooking area of their home. What's more, 23 percent say it's a place where they can rest and relax, and 29 percent view it as a place to entertain - all of which helps explain why outdoor patios and decks have become so much more than a couple of lawn chairs with a grills and a flood light.
Why the Move Outdoors?
What's with the shift outside? Well, experts say the outdoor living trend began as a result of the past decade's economic downturn. When consumers had to cut back on vacations and travel, they looked for other ways to "get away from it all." If they couldn't do it physically, they sought to at least do it psychologically.
Gradual backyard improvement projects were more budget friendly than blowout trips to Europe. So, homeowners began to add a fire pit here and a built-in grill there, until eventually they had a complete living space where they could relax and enjoy the great outdoors. Since cooking for friends and family is how we entertain inside, the outdoor kitchen was the most logical next step.
"Outdoor living is a rapidly growing lifestyle phenomenon," said Gina Lathrum, brand marketing manager for DCS by Fisher & Paykel. "One of the keys to outdoor living is bringing all the comforts of indoor living to the outdoors, beginning with an outdoor kitchen complete with appliances and storage solutions for cooking, preparing and storing food."
Thanks to companies such as DCS, and many other manufacturers that have recognized an opportunity to market to this trend, outdoor kitchens are becoming more like their professional styled indoor counterparts.
"All of the capabilities of an indoor kitchen can finally be realized in an outdoor setting," explained Lathrum, noting that other outdoor kitchen products include storage drawers, warming drawers, beverage chillers, pantry cupboards and recycling bins, which help create the ultimate outdoor kitchen experience.
"We have seen the trend for outdoor kitchens steadily increasing," said Brian Wellnitz, marketing manager, kitchen ventilation, for Broan. His company recently introduced two new professional-style outdoor range hoods aimed at upscale builders and designers. Wellnitz noted that it's part of the company's continuous effort to meet consumers' demands and that "an outdoor range hood is a must for any homeowner looking to create a fully functioning outdoor kitchen."
The Inside Influence
In general, homeowners constantly search for lifestyle products to make their homes more comfortable and aesthetically appealing. And today, it's as true outdoors as it is in.
"It's all a reflection for what we're doing on the inside," said Christopher Grubb, president and founder of Beverly Hills-based Arch-Interiors, who has noticed that interior design has had a direct impact on his exterior design projects. "I observe how my clients entertain, converse, escape, play, cook and dine inside, and from these observations I extrapolate outdoor project ideas and create outdoor spaces that are elegant, yet multi-functional and practical," he added.
Designers and homeowners alike can thank technology for the vast array of products that let them take cooking outdoors. For example, the evolution of propane into a naturally safe and easy-to-use energy source had made it possible to take indoor items such as cooktops and lighting outside in a way that makes them easy to use and maintain.
"Propane appliances are great ways to help maximize the enjoyment of your outdoor living areas while providing a safe environment for warmth and ambiance," said Jessie W. Johnson, vice president of sales and marketing for Blossman Propane gas, Appliance & Service. "Because many of these items are portable, you can customize your outdoor space to fit your style, needs and budget."
A Worthy Investment
Besides being beautiful areas where one can cook and entertain, outdoor living spaces also offer a real return on investment.
"Homeowners know that designed landscapes add value to their lives as well as their property values," said American Society of Landscape Architects (ASLA) executive vice president and CEO, Nancy Somerville, Hon. ASLA, noting that livability, style and earth friendly are all important attributes consumers seek for their outdoor kitchen areas.
In fact, according to market research firm IBISWorld, the outdoor living and landscape sector has expanded to a $60-billion-per-year industry.
"People want to put money in their home improvement projects where it's going to pay off, and outdoor living is a logical choice," explained Bob Dallas, CEO at UltraOutdoors.com. "Not only is it good for the value of your home, but it's a solid investment for creating great recreation spaces and giving your family a relaxing area where they can recharge their batteries."
There's actual value to an outdoor living space in that it's a notable selling point. And having an outdoor entertainment oasis at your disposal also helps save money. Instead of going out and about, families with outdoor spaces are more inclined to stay home and utilize these spaces saving on both gas money and recreation expenses.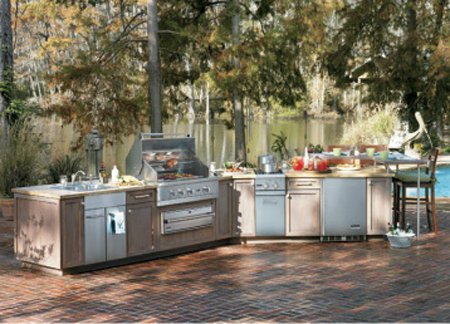 Cook like the top chefs with Viking's Professional Outdoor 5 Series Grills. A 24-in. depth makes it easier for consumers to upgrade and replace their old built-in grills, and features like 25,000 high-intensity BTU stainless steel grill burners and 15,000 Gourmet-Glo Infrared Rotisserie Burners lock in flavors for culinary perfection.
What's Next for Outdoor Kitchens?
As far as the future goes, tremendous growth in the outdoor grill market indicates that consumers are ready and willing to embrace the outdoor kitchen experience. In fact, the ASLA identified the Top Outdoor Living Trends for 2013, and gas grills were one of the most requested elements, second only to fire pits and fireplaces. Global market research firm Mintel predicts that the outdoor grill market will grow by more than 4 percent over the next four years, with 13.9 million barbecues, grills and smokers shipped by 2016.
Johnson predicts that the next big trend in outdoor cooking will be products that use multiple fuels. Right now, Kalamazoo's Hybrid Fire Freestanding Grill is the only option for combining wood, charcoal and gas in one appliance.
"I believe manufacturers will continue to see returning purchasers searching for outdoor products that offer multiple choices of fuels, such as something that lets one start with charcoal and finish with gas," said Johnson, noting that consumers are all seeking this versatility to execute their outdoor cooking ideas.
Whether an outdoor kitchen consists of a basic grill and a bistro table or European-style cabinetry with a weatherproof countertop and wine refrigeration, there are countless ways to completely customize an outdoor kitchen to an individual's needs.
"Besides the plethora of products available for outdoor use, there are so many ways to add personality within individual projects," said Grubb. "Elements like drapery, countertop details, tile, fabrics, chandeliers, sconces and architectural details can go a long way in creating a one-of-a-kind look."
After all, creating a personal space where homeowners feel free to be themselves is what it's all about, inside and out.
-By Holly Berecz