Peak Performance
mutual assurancemututalWhen Julianne Phillips and Marc Gurvtiz escape Los Angeles's sprawl for their getaway high on a peak above Park City, Utah, they take along more then just hiking gear, skis, and Marc's 11-year-old son, Jackson - they take their style, too. Theirs is a breezy, welcoming and oh-so-casual world that glides oceanside to mountainside as effortlessly as a slope-style snowboarder, thanks to designer Trip Haenisch.
Haenisch has a long history of working with Marc, who is a manager and producer with high-profile clients like Bill Maher and Jim Belushi. The designer created homes for Marc even before he and Julianne because a couple nine years ago, so he knew Marc's taste in modern art and furnishings and how he liked to live. What actress Julianne appreciates is Haenisch's effort to blend her style into the mix. "Trip wanted a real collaboration," she says. "He was always asking for my input, and he's sensitive to the male-female dynamic. He wanted to be sure I wasn't railroaded by a male point of view."
What came out of the trio's combined perspectives is a place that's mountain cabin in name only. Here, rustic touches like the twig chandelier in the foyer, an antler-legged footstool in the living room, and birch-bark beds in the bunk room are placed against a sophisticated backdrop of modern furnishings, avant-garde art, and energetic color.
The site Julianne and Marc chose for their new home is at the highest point of Salt Lake City's Promontory neighborhood, with views so enticing that Julianne says they find themselves going there year-round. "You know what they say about mountain towns - the winters bring you, but the summers bring you back. We get so much light and a wonderful breeze, and then there's all the wildlife, including elk and deer, walking through our yard. It's heaven."
The couple's primary home in Malibu is a shingled Dutch Colonial full of misty light grays and blues, but for their mountain retreat they wanted a different palette to counter the days when winter skies turn gray. "We asked Trip to bring in color to add warmth," says Julianne. To Haenisch, that meant red.
"Red is fiery and exciting," the designer says, "but I especially like it next to the light wood we used everywhere here. When I came into the project, the house was half-built and they were going to use a lot of heavy, dark paneling. I said, 'No, you want it blonder, you want it bright and fresh.' You can bang red off a neutral palette very effectively." From a crimson-painted front door, to the vibrant living room dhurrie, to the kitchen's zesty light fixture, Haenisch's theory clearly holds water. "If this were an all-white kitchen, red would be way too sweet," Haenisch says, "but against barn-wood walls, it really works."
Marc and Julianne love having guests, and the kitchen is the center of the action. Haenisch took the wood up and onto the ceiling to make the room feel bigger, and then found a vintage French industrial cart and designed the kitchen's island around it. "I love that this cart has drawers where you can store vegetables, onions, and potatoes," he says. "It's great looking, but it's also practical."
Julianne couldn't agree more. "I love to cook," she says, "and in this kitchen I've got everything I need right at hand to make a big batch of sloppy joes, chili, or quinoa with roasted vegetables - hearty stuff because everyone is outside all day long."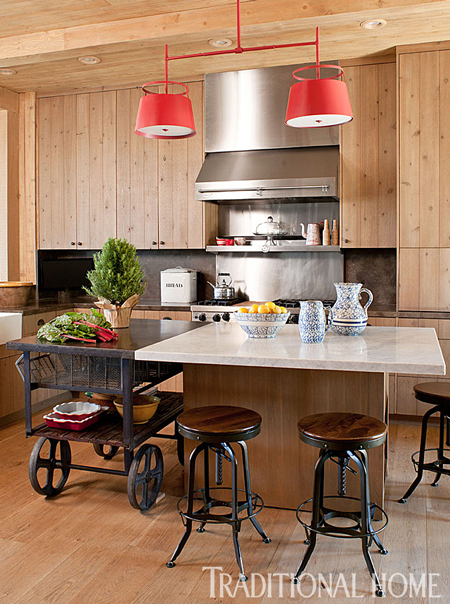 A double pendant light from The Urban Electric Co. lends a splash of red, and barn-wood walls warm the feel of the marble-topped island built around a vintage French factory cart.
Haenisch says mixing textures is as important as being clever with color and shape. Here he masterfully combined leather with wood, stone, and woven pieces to build a cozy, feel-good vibe. "I tried to use things that are respectful of the mountains," Haenisch explains, "but the twist is the modern element. A tree stump table might be predictable, except here it's in a living room with a sleek Danish coffee table."
"The house looks collected because it's filled with things you wouldn't see together every day," the designer notes. He thinks that bowls on the dining room table epitomize his style for the whole house. "The bark on the outside is rugged, but inside they're smooth and modern and colorful."
Along with all the discussion of good design, Julianne wanted to be sure they were creating a home that was inviting and livable for friends and family, especially for Jackson. "What I love about Jackson's room is that he can grow into it. It's not too juvenile." She says the game room/movie area downstairs is all about Foosball and kids.
With two guest bedrooms and a bunk room, the cabin can sleep as many as 15. To accommodate the crowds, Haenisch designed an enormous ottoman and placed it smack in the middle of the open-plan living area, perfect for overflow party guests or just lazing around enjoying the view.
Julianne and Marc credit Haenisch for their home's dazzling design, but he's just as insistent that it only works because it was a group effort. "My worst clients are the ones who trust me too much, the ones who say 'Just do it.' Then the house is all about me and not about them," he says. "Julianne is the sweetest person and Marc is very, very funny. Julianne understand the beauty of a table with a bit of wear and tear, Marc not so much. it was fun to find the balance."
View a slideshow of this modern, rustic mountain home.