Freestanding Range Featured in Traditional Home
Think about fashion in Las Vegas and your head fills with images of showgirls in sequins and feathered headdresses, gamblers in boastful prints, and club-hoppers in lame cocktail dresses. Excess-and lots of it. But fashion enthusiast Lori Scalleat drew on a different style vision for her suburban dream home: the custom-tailored look. Luxurious but restrained, sophisticated, and comfortable. "Tempered Vegas," in the words of Tim Clarke, the Santa Monica-based designer who crafted the interiors to suit Lori and her husband, real estate developer Jeff LaPour.
"In Las Vegas, appearance oftentimes trumps comfort, and we didn't want that," Lori says. "We are not glitzy people, and wanted a home that was casual, but with richness and authenticity. And it needed to be classic and age well, not trendy."
Clarke's first challenge on the project lay in the housing development's covenants, which required all homes built in the neighborhood to have a Frank Lloyd Wright-style exterior. But the simple, open interiors that usually flow from the Prairie style weren't a natural fit for the design-oriented couple. Lori, in particular, draws inspiration from fashion books and magazines. Clarke masterfully embedded restrained doses of sparkle and sheen into the streamlined architecture with organic, shady undertones for a look that appears natural.
"The dark interior palette was influenced by the climate," Clarke says. "This house is situated in a desert, where extreme heat is an issue. Instead of big pale rooms, I opted to create shade."
Finishes played a key role in the rich interiors. Take the mahogany used for the cabinets and bookshelves in the library, as well as for the ceiling there and in the adjoining living room. Finished with lacquer, the wood would have looked shiny and new. Clarke gave it age and depth by having it rubbed with oil, producing the kind of layered look that usually happens over time and that brings out the grain of the wood. Building on that aged appearance, a vintage limestone fireplace mantel in the living room anchors an unconventional seating arrangement of three club chairs.
The showstopper of Lori and Jeff's home is the dining room. It's glamorous, but also edited in such a way that it doesn't speak the ostentatious vernacular of Las Vegas. Think evening wear.
With French doors that open to the front of the house, it was essential that the dining room look elegant not only by candlelight, but during the day, too, when natural light pours in. Grounded by an antique rug in green and gray, the dining room serves as a transition between darker and lighter spaces of the house. As in the living room and library, the ceiling is mahogany. But the walls are covered in a chalky, platinum-color Venetian plaster that nods to the bright appearance of the kitchen and family room. Dining chairs with silver bases are upholstered in gray-green silk. Window treatments are dreamy and feminine, gathering striped silk taffeta to look like the full skirt of a ball gown. A crystal chandelier glows above the dining table like a gem-encrusted statement necklace.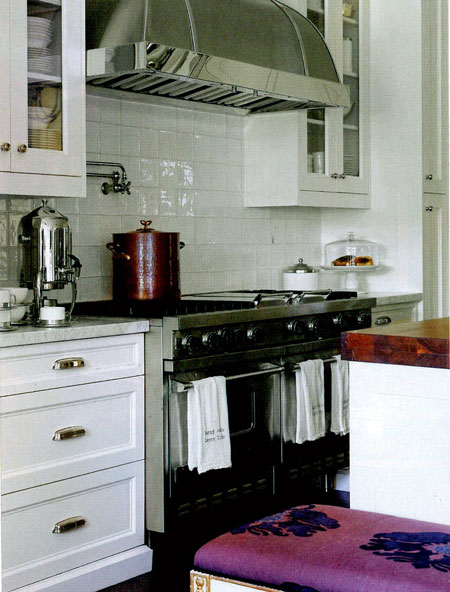 Dark woods were incorporated into the mostly white kitchen so it wouldn't feel like a complete departure from the rest of the house. Wide-plank French oak flooring mimics the old floors of Parisian townhouses. "You wouldn't find pristine, glossy floors there, and we didn't want them here either," Clarke says.
Clarke notes that the kitchen and family room are more about light than design. Their ceilings are also wood, but painted white. The family room invites daytime visitors, but with the formal appointments of a black tuxedo. Sofas with simple forms wear cut-velvet stripes. Antique French chairs were left how they were bought, sporting striking zebra hides. Similarly, the luminous white kitchen has jewel-like frills such as lustrous nickel light fixtures and a banquette table with a hammered-metal base and ebonized mahogany top.
Lori gave her inner fashionista free rein in the master suite. Feminine, with tailored pieces that appeal to Jeff, too, the room indulges in alluring fabrics. Seating pieces are covered in muted purple velvet and silk, while a Fortuny patten dresses a pair of French doors. A crystal chandelier dangles above a fireplace in the bathroom, and a stunning shelving unit displays Lori's shoe collection in the closet.