Viking Appliances Featured in Kitchen Trends Magazine
He prefers one look for their kitchen, while she favors quite another. Creating a design that keeps both of them happy can be tricky, but it can be achieved with close attention to tone and detail.
This kitchen remodel by interior designer and co-owner Reiko Lewis of Ventus Design had to find just such a balance - her love of the clean-lined, modern European aesthetic needed to be set against her husband's passion for Asian culture, and his desire to display artworks and objects collected on Eastern travels.
To cater to his preferences, the floor is in teak and the cabinetry is in rich walnut, says Lewis.
"Dark, rich wood is often featured in Asian cabinets for the kitchen and the adjacent dining room in the same style - this helps draw the two spaces together and allows objects inside to still be on display.
"Then we painted the walls in a soft beige. This tone is also popular in Asian design and makes an appropriate backdrop for art."
For her side of the equation, Lewis selected reflective mosaic tiles in bronze for the whole wall backsplash. She also specified crisp white quartz countertops to create a dramatic contrast to the predominating wood tones. Faucets and hardware are modern and minimalist.
"The sleek stainless steel appliances are also part of the European aesthetic," says Lewis.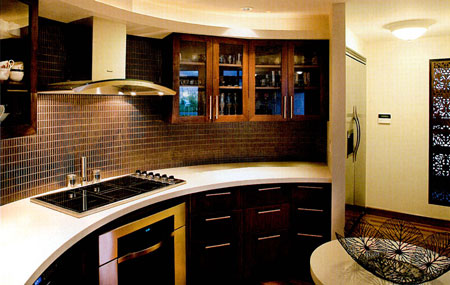 The graceful curves of the kitchen are picked up in the range hood. An Asian-style screen shields kitchen mess from visitors.
While the curved shape of the kitchen had to be retained for structural reasons, the designer did tweak the layout to optimize connections.
"I moved the cooktop to the rear counter and relocated the sink, so we could prep and chat to guests at the same time. Importantly, I re-angled the blade columns to maximize the sea views, which are also reflected in the glass cabinets.
"To improve the flow to the living room, I created a gap in the counter. Before the remodeling, the entry looked straight into the kitchen. To avoid this, I introduced a pantry on that side of the space and added an Asian-style lattice screen. This helps to hide clutter from arriving guests without blocking valuable cross ventilation."
As a finishing touch, a small circular island was introduced in the middle of the room. This reinforces the curved theme, provides central storage for pots and pans, and functions as a handy landing space.