Viking Dealer Showroom Remodel - Spotlight
Many Viking dealer showrooms around the country are being updated due to recent new Viking product introductions. This spotlight is on Mr. Cabinet Care in Anaheim, California. Their blog states:
Mr. Cabinet Care has recently remodeled their showroom with several spectacular new kitchen displays featuring highly innovative Viking appliances. To celebrate the combination of custom cabinetry and sleek design from our friends at Viking, we're giving a special behind-the-scenes tour on our blog. Come join us!
Viking Professional 48" Gas Range with Sealed Burners – VGR748-8BSS
When conceptualizing this kitchen, we wanted to create an ambiance that felt inviting and luxurious. As you can see, this free standing stainless steel gas range contributes a regal feel.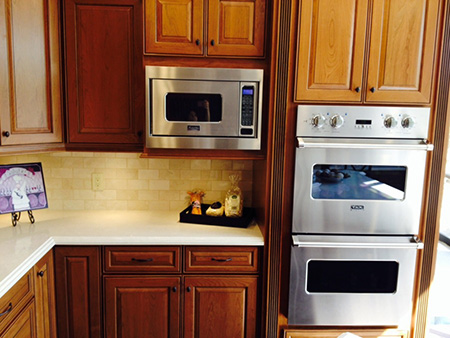 VMOS201S Microwave with accessory VMTK302S trim kit | Electric Double Oven VEDO1302S
We've already put to use this beautiful double oven and whipped up a few batches of chocolate chip cookies for our staff members! It's so simple to operate, and has a self cleaning oven – making it a premium design for any cook. Also, we love how quickly it preheats. Definitely a time saver.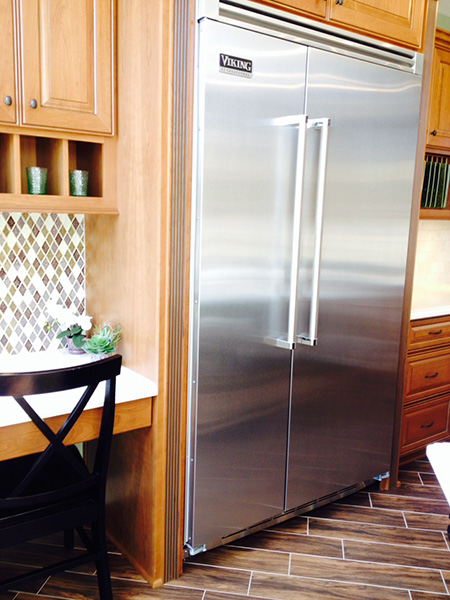 Viking Quiet Cool™ Refrigerator/Freezer | Model:  VCSB5482SS
This side-by-side, built-in 48" Refrigerator/Freezer commands attention in the kitchen. Whenever we give our showroom guests a tour, they always gravitate toward this beauty. And no wonder – with amazing storage space, easy maintenance and cleanup, and exclusive finish options, the Quiet Cool model is quite cool.
To see more Viking appliances displayed in our new kitchen remodel, visit our showroom in Anaheim, CA.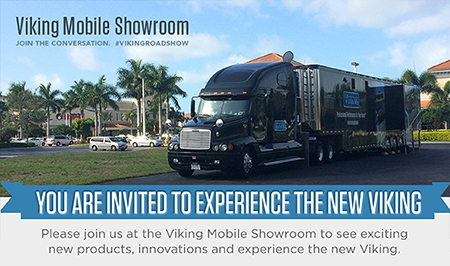 When: Thursday, November 13th at 9:30am-1:30pm
Where: Irvine Company Lot, 100 Innovation Drive Irvine, CA
Interested in learning more about the latest and greatest Viking has to offer? Discover the #VikingRoadShow in Irvine, CA next month! There will be live cooking demonstrations, a display of new kitchen innovations, design trends, and more. It's going to be an exciting event for designers and clients to connect and get a special sneak peek into the future of cooking appliances. All are welcome to visit the mobile showroom. If you want to reserve your free spot please RSVP by emailing Rose Dickson (rdickson@VikingRange.com) by Monday, November 10th.
For more info about Viking, follow them on social media: Twitter, Facebook, and Instagram. Also, get a sneak peek at their innovative, up and coming new appliances on their website. We are looking forward to seeing all the new products that will be displayed at the Viking Road Show and hope to see you there too!