Viking Mobile Showroom Visits Independence, OH
You can't see Viking's new kitchen technologies in stores yet, but they were on view for sneak peeks when the Viking mobile showroom rolled into Independence recently.
The showroom's large trailer, parked outside the DoubleTree by Hilton hotel, was outfitted with soon-to-be-released models of Viking cooktops, refrigerators and ovens. Customers walked through the trailer to see demonstrations – which included breakfast rolls being baked -- and salespeople received information on the new appliances. The Cleveland stop was part of a 10-month road show that took the Viking mobile showroom across the country.
One upcoming model demonstrated in the mobile showroom was the Turbo Chef Oven, which uses columns of heated, high-velocity air to cook food. Viking claims that the oven can roast a 22-pound turkey in a little over an hour.
"That's a game changer," said Doug Tate, general manager of Mobile Fleet Sales for Viking, about the Turbo Chef oven.
You can find Viking kitchen appliances at Edelman Plumbing Supply Inc. in Bedford, Stewart's TV and Appliances in Elyria, B&B Appliance in Euclid and Middleburg Heights, Cleveland Tile and Cabinet in Rocky River and other retail outlets. Compare Viking's high-end products with those of its competitors, including Bosch, Thermador and Kitchen Aid.
Viking's refrigerators, ovens and cooktops typically cost several thousand dollars more than appliances priced for the average homeowner's budget. Why spend the extra money on a Viking? Because it will be an investment that you'll use for decades, Tate said. "Performance is one reason, as well as durability and the heavy-duty look of the product," Tate said.
Here's a look at some of Viking's new products:
Turbo Chef Wall Oven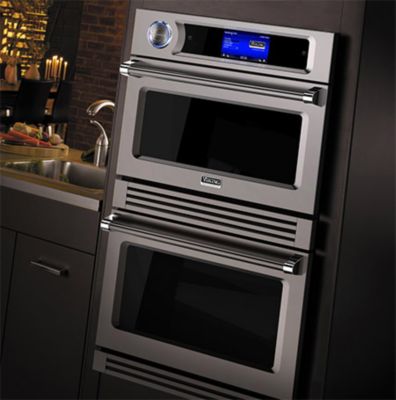 What's new: The Turbo Chef comes in two units. The bottom unit is a normal convection oven. The top unit is a "speed oven" and microwave combined. The speed oven uses two columns of heated, high-velocity air to cook food.
Features: Cooking modes include air crisp, toast, bake, broil, roast and microwave.
A touch screen (there are no dials) displays a menu of food items and preset cooking times for each item. The oven chimes when 80% of the cooking time has passed, so that cook can check the dish to see if it needs more cook time or is ready to come out. Cooks can save recipes and preferred cooking times in the oven's memory.
The convection oven comes with remote temperature probe that transmits the temperature of cooking meat to your cell phone app. But, the app won't turn off the oven. "You still have to come home," Tate said.
Available: Early 2015.
Cost: $12,000- $13,000 for a double unit. After 2015, single units will be available, at $7,000-$8,000 for the speed oven and $4,500-$5,000 for the convection oven.
Gas, induction and electric cooktops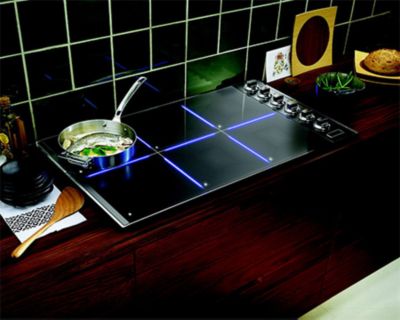 What's new: All three cooktops have been redesigned with controls are etched into the steel surrounding the burners, so the letters will never come off. "You'll always be able to read the controls," Tate said.
Induction cooking uses an electromagnetic wave to excite the molecules in the pan, while the induction panel stays cool. The new Viking induction cooktop allows for faster cook times while expending less energy. It uses LED lights to illuminate cooking zones and to indicate hot surfaces. The LED lights can be mounted under the cooking surface for an on-trend look.
Available: End of this year.
Cost: Gas cooktops will cost $2,100, induction cooktops will cost $3,900 and electric will be $1,800. Each cooktop has six burners.
Refrigerator and freezer "column" models
What they are: These are narrow refrigerator and freezer units that function independently for lower power consumption. The column units are smaller than current side-by-side units, so that they will conform to the new energy-efficiency standards set by the U.S. Department of Energy that go into effect at the end of September.
Features: Variable-speed compressors quickly chill food and are quiet and clog-resistant. It comes with electronic controls, shelves with a special coating that contains spills, and LED lights that don't give off heat. Air circulators eliminate bacteria from the refrigerator's interior.
Available: 2015
Cost: TBA
By Julie Washington, The Plain Dealer