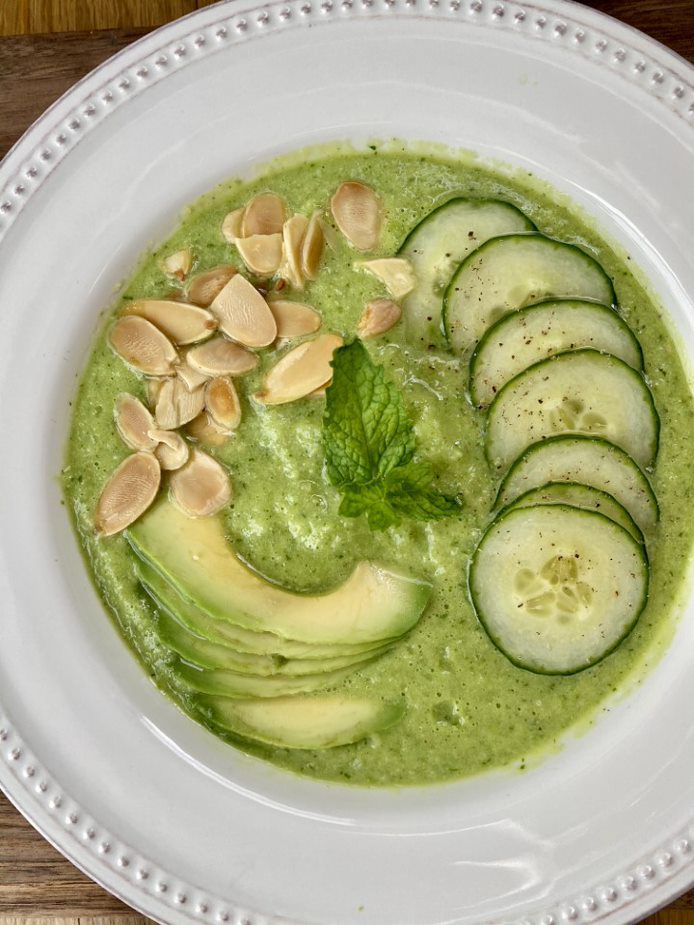 Cucumber Avocado Gazpacho
Serves 4
Prep Time: 00:05 minutes
Ingredients
2 1/2 English cucumbers (2 quartered, remaining 1/2  thinly sliced into rounds for garnish)
2 avocados (pits removed, reserve 1 sliced for garnish)
1/4 cup fresh basil
1/4 cup fresh mint (divided for garnish)
1/4 cup sliced almonds plus 2 tablespoons (toasted and divided for garnish)
1 small shallot (peeled and quartered)
1 tablespoon sherry vinegar
1 lemon (juice only)
1 tablespoon honey
2 tablespoons olive oil
1 1/2 cups cold water
Kosher salt and freshly ground black pepper (to taste)
Directions
To the carafe of a blender, add 2 English cucumbers, 1 avocado, fresh basil, 2 tablespoons mint, ¼ cup sliced almonds, shallot, sherry vinegar, juice of 1 lemon, honey, olive oil, water, salt and pepper. Blend until smooth.  Taste for seasoning. Chill until ready to serve or serve immediately.
To serve, pour into bowls and garnish with reserved cucumber slices, sliced avocado, 2 tablespoons fresh mint and reserved 2 tablespoons toasted sliced almonds.
*Chefs tip: Chill all ingredients prior to making so you can eat immediately after blending!