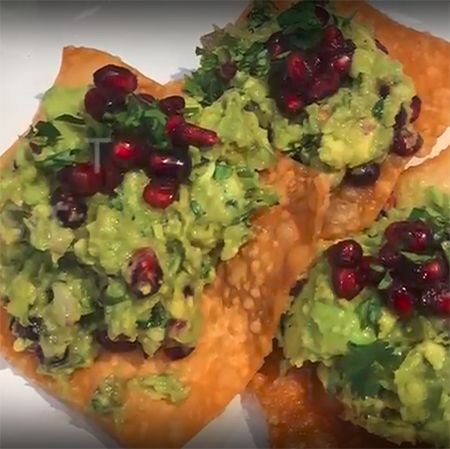 Yield: 15-20 people
Prep time:  15-20 minutes
Total time: 15-20 minutes

Ingredients
15 avocados rough chopped
1 large red onion chopped
1 tablespoon black pepper
3 tablespoons salt
1 tablespoon chili powder
1 cup fresh chopped cilantro
2 small roasted jalapeno peppers peeled and chopped
2 cups lime juice
1 pinch chili flakes (for some kick)
add some pomegranate seeds for a festive holiday look
Chips
frozen wonton wrappers
vegetable oil
Directions for Guacamole
Peel and rough chop 15 avocados and leave 8 pits in the mixing bowl. (Please remove these pits from the bowl before serving the guacamole). Chop 1 large red onion and add to avocados. Season with 1 tablespoon black pepper, 3 tablespoons salt, 1 tablespoon chili powder, 1 cup cilantro, 2 small roasted jalapenos, 2 cups lime juice. For some added kick- 1 pinch of chili flakes. Create a holiday look with festive pomegranate seeds. Mix ingredients thoroughly.  
Directions for Chips
Heat about ¾ inch of vegetable oil in a frying pan.  Separate frozen wonton wrappers and place in hot oil. Lightly brown and flip with tongs. Remove from pan when second side is lightly brown. Stack chips on paper towel.
Directions for Serving
Remove pits.
Put Guacamole on a serving platter in a bowl. Surround bowl with stacks of chips.
Additional suggestion- Grill chicken or steak and put a spoonful of guacamole on top.