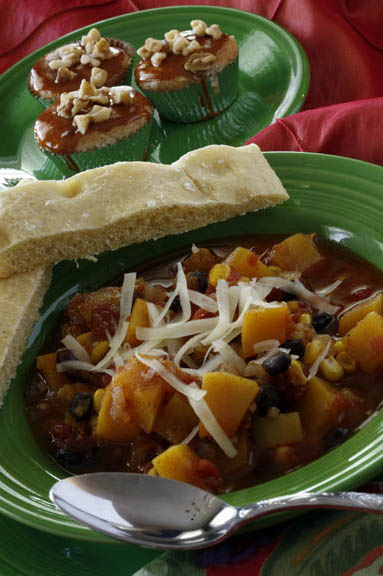 Autumn Vegetarian Soup and Salad Supper
When you're faced with a vegetarian dinner guest, make it an opportunity to enjoy a variety of fruits and vegetables and try something new. This menu is perfect for a crisp autumn evening of casual dining, and you and your non-vegetarian guests won't even miss the meat.
The menu starts with a Crispy, Crunchy Chopped Salad that's tossed in a light dressing and is packed with goodies like dried cherries, candied pecans, crumbled blue cheese and diced apple.
The main dish is a hearty Butternut Squash and Black Bean Chili that's served with Cornmeal Focaccia, which is extremely simple to prepare and takes the place of cornbread as a chili dipper.
Convenience products make dessert a snap. These Caramel Apple Cupcakes make you feel like you're a kid again with the help of packaged cake mix and a jar of prepared dolce de leche sauce.