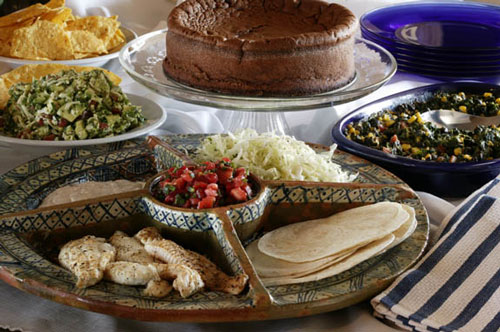 Casual Company Mexican Meal
Entertaining doesn't have to be a "big deal." Sure, a labor-intensive gourmet dinner party is impressive, but your guests will have just as much fun when you serve up casual fare in a relaxed atmosphere. Plus, you'll be able to enjoy the evening, too!
This month's menu is perfect for weeknight entertaining, or for a Friday night dinner party after a stressful work week. Start the evening with a pitcher of frozen margaritas to serve with Holy Guacamole and chips. Fish Tacos with Cilantro Slaw, Chipotle Crème and Pico de Gallo are simple to serve buffet-style. Just place all of the taco fillings on a large platter and allow your guests to assemble their own. Spinach, Corn and Black Bean Bake is the perfect accompaniment to any Mexican entrée, and is quick and easy to prepare using frozen and canned convenience products.
The grand finale is a decadent flourless Mexican Chocolate Cake. The cake can be baked several hours before your guests arrive and is an over-the-top creation for the chocolate lovers in your group.
You'll enjoy preparing for your company more if you break the menu down and make what you can ahead of time. Assemble all of the ingredients except for the avocados for the Holy Guacamole, and then fold the avocados in just before serving. For the fish tacos, the cilantro slaw, chipotle crème and Pico de Gallo all can be made a day ahead, and the Spinach, Corn and Black Bean Bake can be assembled several days before serving. With this much of the work out of the way, the big night will be a snap.