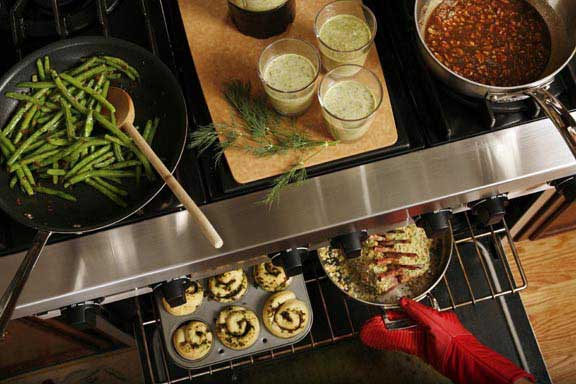 Spring Sensations
There's a nesting instinct that comes upon most of us each spring, leading us to reorganize our closets, spruce up our front yards and entertain in our homes. When the urge to entertain hits you this season, invite friends over for a delicious meal in which supermarket shortcuts net gourmet appeal.
A chilled soup is a nice change of pace from winter's hearty stews and chowders, and our Chilled Soup Chartreuse is a great way to start your spring meal. Bagged fresh spinach and other already prepared vegetables from the produce department really decrease preparation time. A trip to the bakery for some pizza or bread dough gets you on your way to delicious Onion-Herb Spirals to serve alongside the soup.
Racks of lamb are a fitting spring main course, and ours can be partially prepared ahead of time. Just pop them into a hot oven to finish roasting while you make a quick sauté of Pancetta-Seared Green Beans. Lemon-Chive Mashed Potatoes or Boursin Mashed Potatoes (see the recipe on this site) would be nice additions to the menu.
Our dessert looks spectacular but is a snap to prepare. Supermarket carrot cake mix becomes individual carrot cakes to serve with super-easy homemade Cheesecake Ice Creams. A drizzle of homemade Praline Sauce takes these desserts over the top.