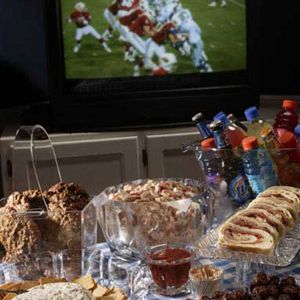 Super Bowl Buffet Supper
The Super Bowl has become a nationwide event - leading to gatherings of family, friends and neighbors. The essential ingredient in a successful Super Bowl party is the food, and this is one time where haute cuisine is unwelcome. Supermarket staples such as Velveeta and cocktail franks soar in sales, as the nation blows its New Year's resolutions for a of night nachos and onion dip.
This month's menu is a step above the dishes mentioned above, but it will please your guests young and old. Succulent Saucy Shrimp takes marinated shrimp to a new level, with a creamy sauce that is always a party favorite. Creamy Bacon-Olive Spread is a snap to prepare and is better if you make it a day or two ahead. Sweet-Heat Cocktail Meatballs are an update of your Mom's party meatballs, with jalapeno pepper jelly standing in for her grape jelly. A Super Stromboli rounds out the menu and is a hit with those who favor "meat lover's" pizza.
For dessert, my Touchdown Cookies are packed with a pantry full of tasty ingredients. Oats, coconut, two kinds of chips and nuts make these cookies crowd pleasers.