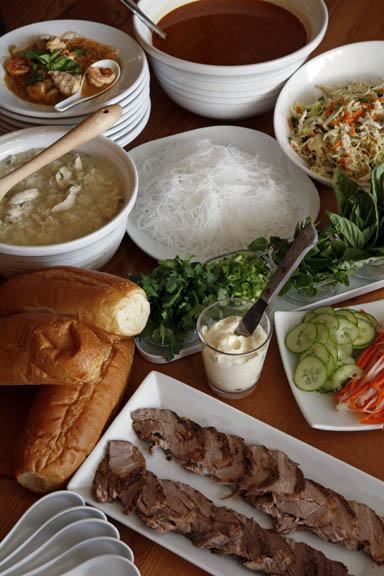 Vietnamese Soup and Sandwich Supper

Bring the flavors of Vietnam home with a delicious soup, salad and sandwich supper that's perfect for entertaining. While the menu is sure to impress your family and guests, the recipes are actually inspired by common Vietnamese street foods.

Start your supper with a crisp Vietnamese Chicken Salad (Goi-ga). Then serve two piping hot soups: Chicken Rice Porridge (Chao Ga) and Catfish, Shrimp and Cellophane Noodle Soup (Canh Bun Tau).

Vietnamese Pork Sandwiches (Banh Mi Thit) are simple to prepare, but are packed with flavor and crunch. For dessert, keep it simple and serve your favorite sorbet sprinkled with a little sweetened coconut.