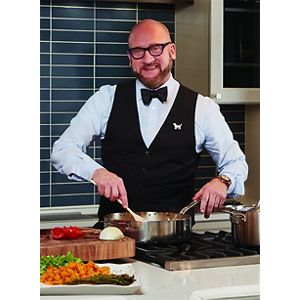 Chef Jaime Laurita's Boo-tiful Halloween Ideas
Boo-tiful Halloween Ideas
Creepy Eyeball Martini
Make it any martini because the eyeball garnish is the best part.

Ingredients:
           • 4 ounces Vodka
           • 3 ounces lychee juice (from canned lychees in syrup, reserve remaining syrup/juice and lychees)
           • 2 ounces Solerno Blood Orange Liqueur
           • 1 ounce green tea simple syrup**

For the Simple Syrup:
           • 6 oz water
           • 6 oz cup sugar
           • 1 Matcha green tea bag

Garnish:
           • Lychees
           • Fresh Blueberries
           • skewers

Instructions
For the Simple Syrup:
Bring water to a boil and pour into glass measuring cup. Let sit for one minute then add the green tea bag. Let steep 3 minutes. Remove the bag and add in the sugar, stir until dissolved then chill completely before using. This makes more than the drink calls for, store the remaining simply syrup in an airtight container in the refrigerator. Use it to sweeten other cocktails or even just a cup of green tea.

For the Cocktail:
Fill a cocktail shaker with ice, add in all the cocktail ingredients, shake well and divide between two martini glasses. Take a couple of the lychee fruits and put blueberries in them to make the "eyeballs" either sink a couple into the drinks or skewer and rest on top. Serve drinks chilled.
Butternut Squash Soup by Rachael DeMarte
4 tablespoons (1/2 stick) butter
2 medium shallots, minced (or four tablespoons of chopped onions)
3 pounds butternut squash (about 1 large), unpeeled, squash halved lengthwise, seeds and stringy fibers scraped with spoon and reserved (about 1/4 cup), and each half cut into quarters
6 cups water
Salt
1/2 cup heavy cream
1 teaspoon dark brown sugar
nutmeg or curry powder
In a Dutch oven or heavy pot over medium heat, melt the butter. Add onions and saute for several minutes. Add reserved squash fibers and seeds and saute about 4 minutes. Pour water into Dutch oven, add 1 1/2 teaspoons salt, and place steamer basket over water.
Place squash halves in steamer basket, cover pot, bring water to boil, and steam squash for 30 minutes, or until very soft. Remove squash to a rimmed baking sheet to cool. Strain steaming liquid, pressing on solids to remove all liquid. Discard solids.Scrape cooled squash from skin into a bowl.

Working in two batches, blend steaming liquid and squash together until perfectly smooth. Pour puree back into Dutch oven, and stir in cream and brown sugar. Salt to taste and add a pinch of nutmeg or 1/2 teaspoon curry powder. Heat soup to desired serving temperature.

Serve with your favorite toppings; roasted apples, bacon, creme fraiche, chives
Beet and Ginger Soup
3 medium sized beets, peeled and quartered (2 ½ cups)
½ red onion, roughly chopped
4 cups of cranberry juice
2 tablespoons of grated ginger
pinch of salt
pinch of white pepper
¼ teaspoon of curry powder
In a medium size pan, combine the beets, red onion and cranberry juice and bring the juice to a boil. Reduce the heat and simmer until the beets are tender when pierced with a fork, about 25 minutes. Puree the soup in a blender until all the rough chopped veggies are smooth.  Open the blender and add in the salt, white pepper and curry powder, then blend once again. Serve hot or cold.
Be careful with this soup. If you rush and use the blender wrong, it will spill all over the counters and it will look like you murdered someone in the kitchen. This soup would be great to serve at a vampire themed party.
Garnish
¼ cup of light sour cream
pinch of sea salt
pinch of curry powder
¼ teaspoon of fresh grated ginger
zest of one small lemon
*Rough chopping for pureed soup is easy and fast.  Just make sure your pieces are the same size so they can cook at the same rate and the best part is no one will ever see your chopping abilities, because the soup will get pureed.