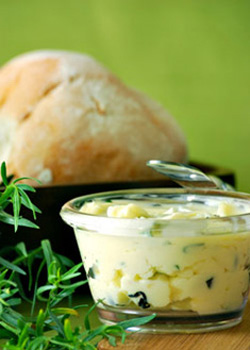 Roasted Shallot Thyme Butter

When roasted, shallots become soft and slightly sweet. In this recipe, the shallots, fresh herbs and Dijon mustard are blended into butter, creating a compound butter than can be stored in the refrigerator for several days - or frozen for several weeks.

4 medium shallots, unpeeled
1 tablespoon extra-virgin olive oil
1 stick unsalted butter, brought to room temperature (8 tablespoons)
1/2 teaspoon Dijon mustard
1 1/2 tablespoons finely chopped fresh flat-leaf parsley
2 teaspoons finely chopped fresh thyme
Salt and freshly ground black pepper, to taste
Preheat the oven to 400°F. Toss the shallots with the oil; place on a baking sheet, and roast until very tender, about 45 minutes. The skins should be charred and crisp. Remove the roasted shallots from the pan, and set aside to cool.

When cool enough to handle, slice the tip (the end opposite the root end) off each shallot, and discard. Gently squeeze out the pulp, and coarsely chop.

In an electric stand mixer fitted with the paddle attachment, beat the butter with the cooled, chopped, roasted shallots; add the Dijon, parsley, thyme, salt and pepper, and continue beating until completely combined.

Transfer to a sheet of parchment paper or plastic wrap, shape into a log and refrigerate until ready to use.



Tips and Techniques


Variation: Substitute roasted garlic for the roasted shallots.

Makes about 1/2 cup



Exclusive recipes provided by Viking Cooking School.