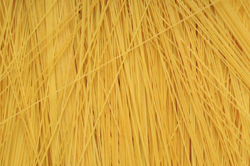 Truffled Angel Hair Pasta with Wild Mushrooms

The earthy flavor of wild mushrooms is both complemented and amplified by the addition of truffle oil. Tossed with delicate strands of angel hair pasta and freshly grated Parmesan cheese, it becomes a seductive combination. Simple, yet sublime, it is a perfect accompaniment to grilled meats or poultry.


9 ounces mixed fresh wild mushrooms (such as morels; shiitake; oyster; portobello; or porcini)
1 tablespoon extra-virgin olive oil, plus extra for drizzling
3 tablespoons unsalted butter, divided
2 shallots, minced
1 large clove garlic, minced
1 teaspoon chopped fresh thyme
1 tablespoon plus 1/2 teaspoon kosher salt, divided
2 tablespoons dry white wine, of drinkable quality
3/4 cup chicken stock
2 tablespoons chopped fresh flat-leaf parsley
6 quarts water
8 to 9 ounces fresh angel hair pasta*
1/4 cup finely grated Parmesan, plus additional for garnish
1 tablespoon white truffle oil, or to taste
Salt and freshly ground black pepper, to taste
Clean mushrooms, removing the stems as necessary, then slice them. Heat a large sauté pan over medium-high heat. Add 1 tablespoon each of oil and butter; allow butter to melt and oil to heat through. Add mushrooms, shallots, garlic, thyme and 1/2 teaspoon salt. Sauté until mushrooms have released all of their liquid and have begun to brown, about 10 to 12 minutes.

Add white wine, stirring to scrape up any browned bits from the bottom of the pan. Cook until wine has evaporated, then add stock and cook until stock has reduced by half. Add parsley, and remove pan from heat; keep warm.

Place 4 to 6 quarts of water in an 8-quart stock pot with a pasta insert. Place over high heat and bring to a boil. When water begins to boil, add 1 tablespoon kosher salt and bring back to a boil. Add pasta, and immediately stir to separate the individual pieces. The water should return to a boil very quickly. If necessary, cover pot until water returns to a boil. Cook just until al dente (firm, yet tender), stirring once or twice during the cooking process.

Drain thoroughly, then immediately toss with the mushroom mixture. Add Parmesan, truffle oil and remaining 2 tablespoons butter. Toss to thoroughly mix, then taste and adjust the seasoning as needed with salt and pepper. Mound in a warmed pasta bowl, garnish with additional Parmesan cheese and drizzle with extra olive oil if desired.



Tips and Techniques


* Many commercial packages of fresh pasta come packed as 9 ounces.

Serves 4



Exclusive recipes provided by Viking Cooking School.