by Karin Calloway


Take a chicken cutlet, dredge it in flour and brown it in butter and olive oil and you've got a world of opportunity for culinary creativity. This simple preparation can become Chicken Parmesan, Marsala, Provencal, Florentine, Veronique or Piccata.

This recipe for Chicken with Lemon, Artichokes and Grape Tomatoes is a variation on the latter, in which browned chicken cutlets are flavored with a bit of fresh lemon juice. Many restaurant versions of chicken piccata include a lemony sauce that's spiked with caper berries. This piccata variation has more color and crunch, as artichokes, grape tomatoes, and capers are added for a dish that's perfect for spring entertaining.

The boneless, skinless chicken breast halves available at supermarkets today are huge, and according to a dietitian friend, they represent at least double a recommended serving of lean meat. To make the portion size saner, and to decrease the cooking time, I like to cut the breasts in half horizontally into two cutlets. (Some supermarkets sell cutlets already sliced, but at a premium price.) All you need to do the work at home is a clean cutting board and a long, sharp or serrated knife. Line the blade of the knife up with the center of the chicken breast and place your other hand on top of the breast to apply just a bit of pressure so that the meat stays in place.

Serve these chicken cutlets with the Lemon-Chive Mashed Potatoes posted on this site or atop angel hair pasta.


3 large boneless, skinless chicken breast halves, rinsed and patted dry with paper towels
Salt and freshly ground black pepper, to taste
1/3 cup all-purpose flour
2 tablespoons butter
1 tablespoons olive oil
1 tablespoon fresh thyme
1 teaspoon minced garlic, about 1 large clove
1 cup dry white wine
1 cup reduced-sodium chicken broth
Juice of 1 lemon
1 lemon, cut into thin rounds
1 14-ounce can quartered artichoke hearts, drained
1 14-ounce can artichoke bottoms, drained and cut into small pieces
1 3-ounce jar capers, drained
2 cups grape tomatoes, cut in half
Sprigs of fresh thyme, for garnish
Place one of the chicken breast halves on a flat surface and cut into 2 cutlets with a sharp knife. Continue with remaining chicken breast halves. Season cutlets with salt and pepper. Place flour in a pie plate or other rimmed flat dish. Dredge cutlets in flour, shaking off any excess.

Heat butter and olive oil in a large skillet over medium-high heat. Add as many chicken cutlets as will fit in the pan without touching. Brown cutlets on both sides, remove to a plate and continue until all cutlets are browned (they will complete cooking later), adding more butter and olive oil to the skillet as needed. Place cutlets on a plate and set aside.

Add thyme and garlic to the skillet and sauté for 1 minute, until fragrant. Add wine, chicken broth, lemon juice and lemon rounds to the pan, scraping up any brown bits in the bottom. Return all of the chicken cutlets to the skillet, along with the artichoke heart and bottoms.

Simmer until sauce is slightly reduced and chicken is cooked through, about 5 minutes. Stir in capers and grape tomato halves and season with additional salt and pepper, if needed. To serve, place 1 cutlet on each dinner plate, top with the artichoke-tomato sauce and garnish with a sprig of fresh thyme.



Makes 6 servings.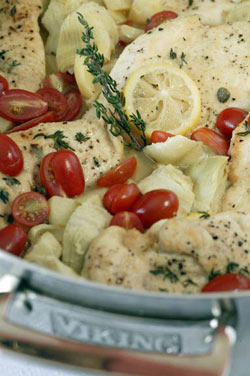 Related Menus


Spring Chicken



Related Recipe Categories


Main Dishes




Related Products


Spring Chicken
Visit the produce section of almost any supermarket during April and the signs of spring are evident. There are plump strawberries from Florida and California and in-season bright green asparagus.