by Karin Calloway


If you hated Brussels sprouts as a child, give them another try in this recipe for pancetta-coated Brussels leaves. Separating the leaves is a bit of work, but the resulting side dish is deliciously worth the effort. If time is short, simply core and quarter the Brussels sprouts.


6 cups Brussels sprouts
3 slices pancetta, chopped
3 tablespoons extra-virgin olive oil
3 small shallots, peeled and chopped
1 tablespoon butter
Sea salt and freshly ground black pepper

Slice the end off of each of the Brussels sprouts and peel off the outer leaves. Once the leaves become difficult to remove, slice off a bit more of the bottom of each sprout until the leaves come off easily. Discard the inner cores.

Heat a large sauté pan over medium-high heat and add the olive oil and pancetta. Sauté for 3 minutes, until slightly crispy. Remove Add the shallots and cook until translucent, about 4 minutes. Add the butter and when bubbling, add the Brussels sprouts and water. Sauté over medium heat, tossing to coat, cooking until the leaves are tender and bright green, about 3 minutes. Season to taste with salt and pepper.



Makes 6 servings.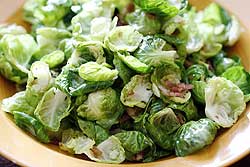 Related Menus


Flavors of Fall



Related Recipe Categories


Vegetables and Sides




Related Products


Flavors of Fall
Emily Bronte wrote, "Every leaf speaks bliss to me, fluttering from the autumn tree," and it's no wonder one would find the fall season poetic. This menu of fall favorites is welcome throughout the fall and into the holiday season.