Flavors of Fall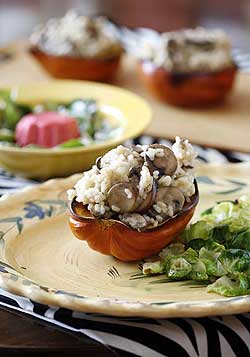 by Karin Calloway
Emily Bronte wrote, "Every leaf speaks bliss to me, fluttering from the autumn tree," and it's no wonder one would find the fall season poetic. The crisp air and falling leaves area good source of culinary inspiration as well, and this menu of fall favorites is welcome throughout the fall and into the holiday season.

A cool Cranberry "Panna Cotta" is simple to prepare with cranberry-flavored gelatin and sour cream. It tops Mixed Greens with Cranberry-Port Vinaigrette for a nice change from the usual holiday gelatin molds.

An earthy Mushroom Risotto is the main course and is served in a roasted acorn squash bowl. Pancetta-scented Sauteed Brussels Leaves are a delicious side dish and a homey Spiced Honey Cake is the perfect fall dessert.
Recipes: