by Karin Calloway


There are many methods employed to roast a whole beef tenderloin, and I believe I've tried every one of them. Some call for a very hot oven with a short cooking time, others call for a moderate oven with a longer cooking time, and my favorite method is low and slow.

Roasting a whole tenderloin in a low oven ensures that the tenderloin, from end to end, is all done to the same degree. So, if your family likes a tenderloin that's medium or medium-rare, you aren't stuck with end pieces that are well done with just a few medium-rare pieces in the middle.

A simple Red Wine Jus made from a full-bodied wine along with shallots, fresh thyme and beef broth adds the finishing touch to this perfectly roasted special occasion cut of meat.


1 whole beef tenderloin, about 6 pounds, trimmed of fat and sinew
Sea salt and freshly ground black pepper
1 bunch fresh thyme
Preheat oven to 250 degrees F. Season tenderloin generously with salt and pepper and fold the tail piece under itself to create a roast of uniform thickness. Tie beef with twine all the way around, and tuck sprigs of thyme under the twine all over roast. Place beef on a roasting pan and roast until the thickest part measures 130 degrees on an instant-read thermometer (for medium-rare), about 1 3/4 - 2 hours.

Transfer to a carving board, tent loosely with foil and let rest for 30 minutes. Slice and serve, drizzled with the Red Wine Jus.



Makes 6-8 servings.





Red Wine Jus




2 tablespoons unsalted butter
4 medium shallots, thinly sliced
2 cups full-bodied red wine
2 tablespoons red wine vinegar
1 teaspoon fresh thyme leaves
4 cups beef and veal stock or 2 cups reduced-sodium beef broth and 2 cups reduced-sodium chicken broth
Melt butter in a large sauté pan over medium heat. Add shallots and cook, stirring occasionally, until translucent, about 5 minutes. Turn heat to high and add wine and vinegar and boil vigorously until reduced to 1/4 cup, about 10 minutes. Add thyme and stock or broth and cook until reduced to 1 cup, about 20 minutes. Strain and keep warm until ready to serve. (Jus can be made ahead and covered and refrigerated. Just heat before serving.)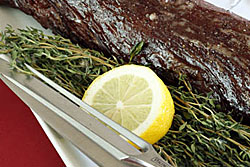 Related Menus


A Lighter Holiday Dinner Party



Related Recipe Categories


Main Dishes




Related Products


Asian Soups and Starters
Chop Suey may have been America's introduction to the cuisine of the Orient, but over the years regional Chinese, Vietnamese and Thai cuisines have become an important part of the American culinary landscape.