by Karin Calloway


I love cruciferous vegetables, those strongly flavored members of the broccoli, but by far my favorite is the peppery, slightly bitter broccoli raab. I love it blanched and then sautéed with olive oil, garlic and hot pepper flakes. I love it washed, chopped and thrown directly into a wok with olive oil, flaked sea salt and black pepper. But my recent favorite way to prepare broccoli raab is to roast it on a foil-covered baking sheet. I line the sheet with foil for easy cleanup, and then I toss the broccoli raab with olive oil, garlic and fresh lemon juice. The juice adds a special freshness, and roasting the broccoli raab allows its sweetness to come out.

This preparation makes a delicious accompaniment to almost any meat dishes, and I also love to serve it as a bed for grilled fish.

When you first spread the tossed broccoli raab onto the baking pan it will look like you have way too much. However, it shrinks by a little more than half while roasting and it tastes so good, you definitely will be glad you used both bunches of broccoli raab.



Lemony Roasted Broccoli Raab




2 bunches broccoli raab, washed, stemmed and roughly chopped
2 tablespoon olive oil
2 teaspoons minced garlic, about 2 large cloves
Juice of 1/2 fresh lemon
Sea salt and freshly ground black pepper, to taste

Preheat the oven to 425 degrees. Line a half-sheet baking pan with foil, if desired, and set aside.

Toss the broccoli raab with the olive oil, garlic and lemon juice in a very large bowl. Spread the broccoli raab on the baking pan and sprinkle with salt and pepper. Roast, stirring once or twice, until tender, 15-20 minutes.



Makes 6 servings.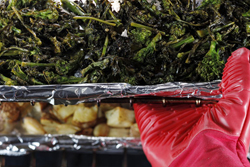 Related Menus


Italian Weeknight Dinner



Related Recipe Categories


Vegetables and Sides




Related Products


30" Gas Cooktop - VGSU
Designed to fit virtually all 30" wide cutouts, the built-in gas cooktops make it simple to replace old cooktops with Viking commercial cooking power. 30" Custom Electric Range - VESC
The redesigned electric range provides both the largest oven capacity available and the largest convection fan on the market. TruGlide™ full-extension rack and three halogen lights add a world of convenience. And heavy duty metal knobs with stainless steel finish offer precise control over the QuickCook™ surface elements – which reach full power in nearly three seconds.