by Karin Calloway


I love cruciferous vegetables, those strongly flavored members of the broccoli, but by far my favorite is the peppery, slightly bitter broccoli raab. I love it blanched and then sautéed with olive oil, garlic and hot pepper flakes. I love it washed, chopped and thrown directly into a wok with olive oil, flaked sea salt and black pepper. But my recent favorite way to prepare broccoli raab is to roast it on a foil-covered baking sheet. I line the sheet with foil for easy cleanup, and then I toss the broccoli raab with olive oil, garlic and fresh lemon juice. The juice adds a special freshness, and roasting the broccoli raab allows its sweetness to come out.

This preparation makes a delicious accompaniment to almost any meat dishes, and I also love to serve it as a bed for grilled fish.

When you first spread the tossed broccoli raab onto the baking pan it will look like you have way too much. However, it shrinks by a little more than half while roasting and it tastes so good, you definitely will be glad you used both bunches of broccoli raab.



Lemony Roasted Broccoli Raab




2 bunches broccoli raab, washed, stemmed and roughly chopped
2 tablespoon olive oil
2 teaspoons minced garlic, about 2 large cloves
Juice of 1/2 fresh lemon
Sea salt and freshly ground black pepper, to taste

Preheat the oven to 425 degrees. Line a half-sheet baking pan with foil, if desired, and set aside.

Toss the broccoli raab with the olive oil, garlic and lemon juice in a very large bowl. Spread the broccoli raab on the baking pan and sprinkle with salt and pepper. Roast, stirring once or twice, until tender, 15-20 minutes.



Makes 6 servings.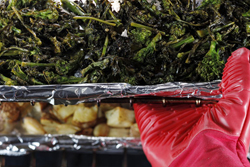 Related Menus


Italian Weeknight Dinner



Related Recipe Categories


Vegetables and Sides




Related Products


Italian Weeknight Dinner
It's Monday night. You arrive home from work and the first question the family asks isn't "How was your day?" At least at my house, the nightly question is "What's for dinner?"