Pancakes
by
I've been meaning to share the Mother's Day breakfast that Bond prepared for me, because it was so good and exactly what this mama was craving.
The menu was: Buttermilk Pancakes, hash browns and thick-cut peppered bacon.
What a sweet husband I have...and he is a grill king and overall super fun guy, too! Lucky me...
Buttermilk Pancakes
Vegetable or canola oil
2 cups flour
2 teaspoons baking powder
1 teaspoon baking Soda
2 tablespoons sugar
1 1/2 teaspoon salt
2 cups buttermilk
2 eggs
3 tablespoons melted butter (you can use vegetable or canola oil)
1 teaspoon vanilla extract
Heat griddle on medium low heat and brush with oil.
Sift the dry ingredients into a bowl. Whisk the buttermilk, egg, and oil together in a separate bowl and add to the dry ingredients. Stir together, but be careful not to over mix...you don't want the gluten to start tightening up!
Use a measuring cup to spoon 1/4 cup pancakes onto the griddle. Cook, flipping when the surface of pancakes are covered in air bubbles, about 2-1/2 minutes to 4 minutes on each side.
Makes about 12 pancakes.

Print This Page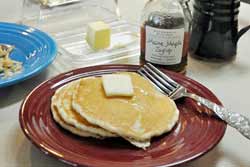 Related Recipe Categories
Breakfast and Brunch

| | |
| --- | --- |
| | Karin Calloway is a working mom living in Augusta, Ga., with multiple freelance jobs and a ton of dirty dishes. |