Individual Baklava Cheesecakes
by
Baklava is a favorite Greek dessert. Cross it with cheesecake and you have a sublime finale to any Greek meal. Years ago I prepared a delicious, elaborate baklava cheesecake that required overnight refrigeration before serving. My impatience (and sometimes poor planning) led me to create this individual version that doesn't have to sit in the refrigerator overnight before it can be enjoyed.
Layers of defrosted filo dough, butter and walnuts tossed with sugar and cinnamon encase a cream cheese filling that's sweetened with honey and flavored with a hint of lemon. The cheesecakes bake in standard muffin tins, allowing you to prepare these for a crowd. The cheesecakes are brushed with cinnamon-spiced honey and this the remaining sauce is then spiked with cognac and drizzled on the dessert plates for serving.
Cream Cheese Filling
16 ounces cream cheese, softened
1/2 cup honey
2 tablespoons fresh lemon juice
1 teaspoon vanilla extract
3 eggs
Preheat oven to 350 degrees F. Combine cream cheese and honey in the bowl of a stand mixer or in a large bowl. Beat until smooth and well combined. Add lemon juice, vanilla and eggs, beating well after the addition of each egg before adding another egg. Set aside.
Baklava Wrapper
1 cup chopped walnuts
1/4 cup granulated sugar
1 teaspoon ground cinnamon
1/2 a 1-pound package filo dough, thawed
3/4 cup (1 1/2 sticks) butter or margarine, melted
Place walnuts, sugar and cinnamon in the bowl of a food processor fitted with a metal blade. Pulse until finely chopped. Set aside.
Unroll filo dough onto a flat surface or baking sheet and cover with a towel. Remove 1 sheet of the filo and brush 1/2 of the sheet with melted butter. Fold unbuttered half over the top and brush with butter. Sprinkle with 1 to 2 tablespoons of the nut mixture. Top with another sheet of filo (cover the nuts with half of the dough, leaving the other half extending to the left) and spread half of the sheet with butter. Fold the extended half over the top and spread with butter. Fit into a muffin tin or custard cup that has been buttered or sprayed with nonstick cooking spray. Scoop about 1/3 cup of the cream cheese mixture into the center and fold the corners of the filo over the top. Brush with butter and repeat until all filling and pastry are used. Bake for 30 minutes, until golden.
Honey Drizzle
3/4 cup honey
1 tablespoon fresh lemon juice
1 cinnamon stick
1 tablespoon cognac (optional)
While the cheesecakes bake, bring honey, lemon juice and cinnamon stick to a boil in a saucepan. Reduce heat and simmer for 4 minutes, then remove from heat and set aside.
Brush cheesecakes with honey immediately upon removal from the oven, and set aside to cool. (The cheesecakes can be prepared 1 day ahead of serving and kept refrigerated). Add the cognac to the remaining honey. Drizzle some of the honey syrup on each dinner plate and top with one of the cheesecakes.
Makes approximately 12 cheesecakes.

Print This Page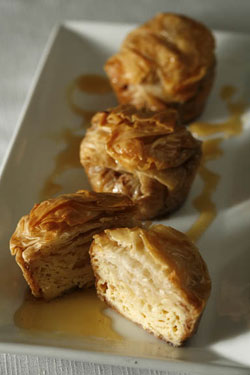 Related Menus
Greek Inspired
Related Recipe Categories
Desserts

| | |
| --- | --- |
| | Karin Calloway is a working mom living in Augusta, Ga., with multiple freelance jobs and a ton of dirty dishes. |