Louisiana Strawberries with Lemon-Creme Fraiche Ice Cream & Local Honey
Serves: Serves 4 to 6
Courtesy of: Chef Justin Devillier, La Petite Grocery
Ingredients:
10 large egg yolks
1 quart of creme fraiche
3/4 cups + 1 tbsp sugar
zest of 1 lemon (grated)
1 pint of Louisiana strawberries
2 tbsp local honey
Instructions:
Bring creme fraiche and sugar to a gentle simmer over medium heat. In a medium bowl whisk the yolks until combined. Slowly pour hot creme fraiche/sugar mixture into egg yolks while whisking the yolks to prevent lumping.
When all is incorporated return to pan and place over med/low heat and stirring continuously, let cook for about 5-8 minutes until thickened. Mixture should stick to the back of a spoon and should not be lumpy. Add lemon zest and stir.
Pour into bowl and chill for 2-3 hours or overnight. Place in ice cream machine and follow manufacturer's instructions. When finished processing place in a quart container and freeze for 6 hours.
Wash strawberries and cut them in half. Place in a bowl and drizzle honey all over them. Toss to coat all the berries and place in a plastic air tight container. Do this 2 hours before serving.
To serve:
Place seven stawberry halves in a bowl and pour a little berry/honey juice from the berry container in as well. Place a nice sized scoop of lemon creme fraiche ice cream and enjoy!

Print This Page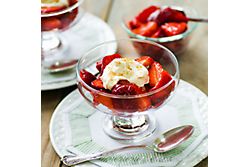 Related Recipe Categories
Desserts