Chinese Almond Cookies
by
Children love baking cookies almost as much as they enjoy eating them. And, baking with your children gives you an opportunity to teach them culinary basics such as the proper way to measure flour, cream butter and sugar, and crack eggs.
These Chinese Almond Cookies are a not-too-sweet finale to my fun Asian Exploration children's cooking class. They're great to prepare with a group of children because you can divide up many tasks. Children can measure the ingredients, portion out the cookie dough with a small cookie scoop, flatten the cookies, brush them with the egg wash and top each cookie with an almond.
Make a pot of Chinese tea to sip with the cookies for the end of a fun day of cooking with kids in the kitchen.
1 cup butter or margarine, softened
1 cup powdered sugar
1 egg
1 teaspoon vanilla extract
2 teaspoons almond extract
2 1/3 cups all-purpose flour
1/2 teaspoon baking powder
Granulated sugar
1 egg yolk, beaten with 1 tablespoon water
24 almond slices or whole almonds
Preheat oven to 350 degrees F. Combine butter, egg, vanilla and almond extract in large mixing bowl. Beat at until light and fluffy. Add flour and baking powder. Beat until soft dough forms.
Shape dough into 1-inch balls. Place balls 2 inches apart on ungreased cookie sheets. Dip the bottom of a glass in granulated sugar and flatten the balls of dough into an even thickness. Brush tops of cookies with egg yolk mixture. Press almond into center of each cookie. Bake for 13 to 15 minutes or until edges are light golden brown. Cool on wire racks.
Makes 2 dozen cookies.

Print This Page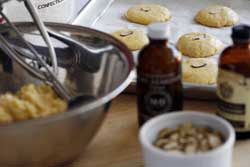 Related Menus
Asian Cooking with Kids
Related Recipe Categories
Desserts

| | |
| --- | --- |
| | Karin Calloway is a working mom living in Augusta, Ga., with multiple freelance jobs and a ton of dirty dishes. |