Fresh Fruit Shortcake
2 cups all-purpose flour, plus additional for kneading
1 pinch fine salt
3 tablespoons granulated sugar
1 tablespoon baking powder
1 teaspoon finely minced orange zest
1 cup heavy cream, plus additional as needed
½ cup unsalted butter, melted
2 pints fresh strawberries (or other seasonal fruit*), divided
confectioners' sugar, to taste
Crème Chantilly (link to recipe is below)
mint sprigs for garnish
Preheat oven to 425°F. In a mixing bowl combine flour, salt, sugar, baking powder and zest by stirring with a fork to blend. Slowly add cream, stirring constantly until the dough holds together. Add additional cream if necessary to reach this stage.
Knead the dough for one minute on a lightly floured board. Pat the dough into a square about ½-inch thick.
Using a 3-inch biscuit cutter, cut the dough into four rounds. Push the cutter straight down into the dough; avoid twisting the cutter as this action inhibits rising. Dip the shortcake rounds in the melted butter to coat all sides.
Place the shortcakes 2 inches apart on an ungreased baking sheet and bake until golden brown, about 15 to 18 minutes.
Wash the berries and remove all stems. Puree half the berries in a food processor, adding confectioners' sugar to taste. Place the puree in a mixing bowl. Slice the remaining berries and stir into the puree.
Split the shortcakes and ladle the berry mixture over the bottom half. Place the tops of the shortcakes over the berry mixture, ladle more berry mixture over the top. Garnish with a dollop of Crème Chantilly and mint sprigs.
*You may substitute blueberries, raspberries, blackberries, peaches, apricots, plums or any combination of these fruits for the strawberries.

Fresh Fruit Shortcake continued.
Serves 4

Print This Page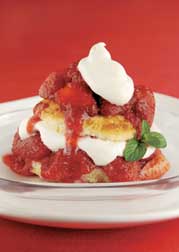 Related Recipe Categories
Desserts
Viking Cooking School Recipes