Lemon-Pecan Tassies
by
Dessert is often a quandary at parties in which heavy hors d'oeuvres are served, since opting for a classic dessert requires plates and forks or spoons. So it's good to have a few recipes for pick-up sweets in your repertoire. These Lemon-Pecan Tassies fill the bill. They're pretty and not too sweet.
Shells
1/4 cup (1/2 stick) butter, cut into small pieces
1 cup flour
1/4cup sugar
1 egg
1/2 cup pecans, chopped or halves
Preheat oven to 375 degrees F. Combine all ingredients except pecans in the bowl of a food processor fitted with a metal blade. Pulse until well combined. Add pecans and pulse until chopped and incorporated. Divide dough among mini muffin tins for 24 tart shells. Bake for 10 to 12 minutes, until golden.
Lemon Filling
1 teaspoon unflavored gelatin
1 tablespoon cold water
1/2 cup sugar
2 eggs
Zest of 1 lemon
1/4 cup fresh lemon juice
2 tablespoons butter
Whisk gelatin and cold water together in a small bowl. Pour into a medium saucepan. Beat eggs and sugar together in a bowl and add to the gelatin mixture. Bring to a boil over medium heat, stirring constantly. Simmer for 10 minutes, until thick. Remove from heat and stir in the zest, juice and butter. Pour into the shells and refrigerate for 1 hour, until filling is set.
Makes 24 tartlets.

Print This Page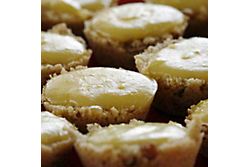 Related Menus
Great Grillin'
Related Recipe Categories
All
NOT TVL
The Viking Life
Desserts

| | |
| --- | --- |
| | Karin Calloway is a working mom living in Augusta, Ga., with multiple freelance jobs and a ton of dirty dishes. |