Sausage Roll
by
The smell of fresh baked bread had become a thing of the past until the bread machine entered the scene. But before the bread machine, supermarkets were stocked with frozen bread dough, a way to bring the goodness of fresh baked bread into your home without all that kneading and rising.
Although the dough is great for making a loaf of hot, home baked bread, my favorite way to use it is as a base for other recipes. Crescent rolls, cinnamon rolls and even savory rolls, like the Black Forrest and Muenster Rolls (posted on this site), all are quickly prepared using a loaf of the thawed dough.
The Sausage Roll is a wonderful addition to a breakfast or brunch menu, as a hearty hors d'oeuvre or as an accompaniment to soups during balmy weather. Perfect Potato Soup (also on this site) with a slice of Sausage Roll is a favorite meal of my children. Simply omit the bacon from the soup recipe, and sauté the onions called for in the same pan you used to brown the sausage. (Drain the sausage first and you'll be adding the sausage flavor, but not tons of fat, to your finished soup.) I add a fresh fruit salad, and dinner is served.
1 loaf frozen bread dough, thawed
1 egg, beaten
1 pound spicy or regular sausage, cooked and drained
1 cup shredded Cheddar cheese
Roll bread dough into a large rectangle. Paint dough with beaten egg, then sprinkle sausage and cheese evenly over dough. Roll up jellyroll fashion and place on a large baking sheet. Let rise 30 minutes.
Preheat oven to 350 degrees F. Brush outside of roll with remaining beaten egg. Bake for 25 minutes, until golden brown on outside and cooked throughout.
Makes 8 servings.

Print This Page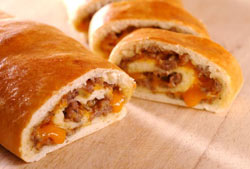 Related Recipe Categories
Breakfast and Brunch

| | |
| --- | --- |
| | Karin Calloway is a working mom living in Augusta, Ga., with multiple freelance jobs and a ton of dirty dishes. |