Orange-Cranberry Biscotti
by
Biscotti are crisp, twice-baked, crescent-shaped Italian cookies that get a bad rap for being difficult to prepare. Actually, they're easier than traditional cookies since they don't have to be formed into individual cookies or rolled out and cut with cookie cutters. You simply form the dough into two logs for the first baking and then slice and bake again.
These Orange-Cranberry Biscotti are extra simple to prepare because the base for the recipe is a package of white cake mix. Starting with a cake mix means that flavor variations are almost limitless. Pack these up for your next picnic or wrap up a few of the cookies and give as holiday gifts.
Here are just a few variation options, but take a look at the cake mixes available in your supermarket and come up with your own.
-Lemon-Blueberry Biscotti – substitute lemon zest and dried blueberries for the orange zest and cranberries.
-Apple-Cinnamon Biscotti – substitute chopped dried apples for the cranberries, omit the orange zest and add ½ teaspoon ground cinnamon.
-Double Chocolate Biscotti – Substitute chocolate cake mix for the white, omit the orange zest and stir in some white chocolate chips in place of the cranberries.
Orange-Cranberry Biscotti
1 18.5-ounce package white cake mix
1 cup all-purpose flour
1/2 cup (1 stick) butter or margarine, melted
2 eggs
1 teaspoon vanilla extract
3/4 cup dried cranberries, coarsely chopped
1/2 cup chopped pecans
Finely grated zest from 1 orange
Preheat oven to 350 degrees. Line a baking sheet with a silicone baking mat or parchment paper. Combine cake mix, flour, butter, eggs and vanilla in a stand mixer. Beat at low until well blended. Mix in cranberries, pecans and zest.
Divide dough in half. Shape each half into a 12-by-2-inch log. Place logs on prepared baking sheet. Bake for 30 to 35 minutes or until toothpick inserted in the center comes out clean. Remove from oven and cool on baking sheets for 15 minutes.
Cut logs into 1/2-inch slices using a serrated knife. Arrange slices on baking sheets. Bake for 10 minutes. Remove to cooling racks and cool completely.
Makes 3-4 dozen biscotti.


Print This Page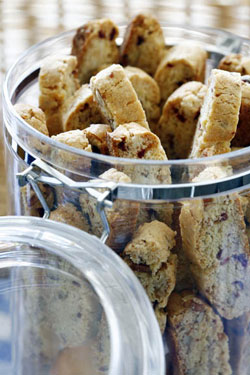 Related Menus
Tailgate Time
Related Recipe Categories
Desserts

| | |
| --- | --- |
| | Karin Calloway is a working mom living in Augusta, Ga., with multiple freelance jobs and a ton of dirty dishes. |