Chicken Saltimbocca
by
The food world can become enamored with certain tastes, forgetting less trendy ingredients. While we have spent the past two decades turning basil into pesto sauce, and multiplying the uses of cilantro, sage is an herb I'm afraid we've neglected.

Aside from adding dried sage to our holiday dressing, I haven't experimented with fresh sage for quite some time. Dining on a delicious Chicken Saltimbocca in an Italian restaurant in England reminded me of the smoky complexity just a bit of fresh sage can add to a dish. Upon my return, I also spent hours perusing Southern chef and food historian Damon Lee Fowler's newest book, "Damon Lee Fowler's New Southern Kitchen" which includes multiple recipes flavored with fresh sage.

It seems that the Italians and Southerners had one up on this chef, and so I set out to develop a recipe similar to the dish I was served in England that highlights the herb. My resulting Chicken Saltimbocca turns a classic Italian sautéed dish into a quick and easy baked chicken entrée. While the dish is quite easy to prepare, it is elegant enough for entertaining. Just add a side of fettuccine Alfredo and a big green salad and enjoy the dish's hint of sage.


4 boneless, skinless chicken breast halves
1 tablespoon olive oil
Salt and freshly ground black pepper, to taste
12 leaves fresh sage
4 slices Fontina cheese
8 thin slices Prosciutto

Preheat oven to 400 degrees F. Rub chicken breast halves with olive oil and season to taste with salt and pepper. Place three sage leaves on each chicken breast and top with one piece of cheese. Wrap two slices of Prosciutto around each chicken breast and place in a 9-by-13-inch glass baking dish. Bake for 25 to 30 minutes, until internal temperature is 175 degrees when checked with an instant-read meat thermometer.
Makes 4 servings.


Print This Page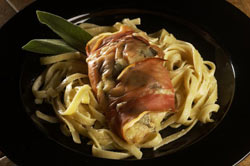 Related Recipe Categories
Main Dishes

| | |
| --- | --- |
| | Karin Calloway is a working mom living in Augusta, Ga., with multiple freelance jobs and a ton of dirty dishes. |