White Bean Casserole
by
Ordinary baked beans step aside. One taste of this Provence-inspired White Bean Casserole and you'll banish canned baked beans for good. The casserole flavors canned cannellini or other white beans with onion, garlic and herbes de provence and tops them off with a crispy breadcrumb topping. The dish can be assembled ahead of time. Just sprinkle on the topping right before baking.
Casserole
1 tablespoon olive oil
1 medium onion, finely chopped
2 cloves garlic, finely chopped
1 teaspoon herbes de provence
Salt and freshly ground pepper
2 19-ounce cans white beans, rinsed and drained
1 large tomato, cored and chopped
1/4 cup dry white wine
1/4 cup finely chopped parsley
Preheat oven to 350 degrees F. Heat olive oil in a medium skillet over medium-high heat. Add onion and sauté until tender, about 4 minutes. Add garlic and sauté 1 minute more. Combine all of the onion mixture and remaining ingredients in a baking dish, cover with a lid or foil and bake for 1 hour.
Topping
2 cups fresh breadcrumbs (about 1 French sandwich roll)
1 teaspoon herbes de Provence
2 tablespoons chopped fresh parsley
1 teaspoon minced garlic, about 1 large clove
1/4 cup olive oil
Sea salt and freshly ground black pepper, to taste
Combine ingredients in a bowl. After casserole has baked for 1 hour, remove cover and sprinkle with topping and bake until topping is golden brown, about 5 minutes.
Makes 6-8 servings.

Print This Page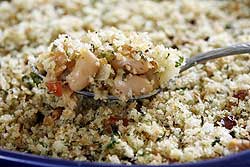 Related Menus
Easy Autumn Supper
Related Recipe Categories
Vegetables and Sides

| | |
| --- | --- |
| | Karin Calloway is a working mom living in Augusta, Ga., with multiple freelance jobs and a ton of dirty dishes. |