Fried Catfish
by
My husband is the fry cook at our house, and our neighbors used to stop by on many weekends to see what he was cooking up in his bubbling cauldron (a propane cooker that he pulled out into the driveway). Now he does his frying in a more private setting, on the side burners of our backyard Viking Outdoor Grill.
While Bond heats up the oil, I do the indoor prep work for one of our favorites: Fried Catfish. Most cooks I know have their own special breading for fried foods, and my catfish breading includes a hefty ratio of yellow cornmeal for extra crispiness. Flour helps the cornmeal adhere to the fillets and the breading is seasoned well with salt, cayenne and black pepper and garlic powder.
Before hitting the breading, the U.S. Farm-Raised catfish is dipped in a slurry of buttermilk and hot sauce, which I also use when preparing fried chicken. You can substitute regular milk, but you will miss the slight tanginess the buttermilk provides.
The breading is one secret to perfectly fried catfish fillets, but the other secret is the oil. Bond prefers frying in peanut oil, since it withstands high temperatures. Use a frying thermometer to determine when the oil is ready for the fish. It should reach 350 degrees. Work in small batches and drain the fish on newspaper or paper towel-lined baking sheets. Sprinkle the fish with salt immediately for extra flavor.
Frying whole cleaned catfish is a Southern tradition, but large catfish fillets are a great option for those who don't like to deal with bones. The Roasted Corn Remoulade recipe posted on this site (see Salmon with Roasted Corn on the main dishes index) is my sauce of choice for these crisp, well-seasoned catfish.
3 cups yellow cornmeal
1 cup all-purpose flour
3 teaspoons salt
1 teaspoon cayenne pepper
1 teaspoon garlic powder
1/2 teaspoon ground black pepper
2 cups buttermilk
1 teaspoon hot pepper sauce
8 whole U.S. Farm-Raised catfish or large U.S. Farm-Raised catfish fillets
Peanut or vegetable oil for deep frying
Salt, to taste
Combine cornmeal, flour, salt, cayenne, garlic powder and black pepper in a large zip-top plastic bag. Seal bag and shake to combine. Combine buttermilk and hot sauce in a shallow glass baking dish. Dip catfish in buttermilk, coating both sides well, and then place in the bag and shake. Continue with remaining catfish fillets, shaking well after each addition.
Heat about 4 inches of oil in a large stock pot and heat to 350 degrees F. Add several of the fish fillets and cook until golden brown, about 6 to 7 minutes, turning occasionally. Remove to drain on a newspaper or paper-towel lined baking sheet and season immediately with salt. Continue with remaining fish.
Makes 8 servings.

Print This Page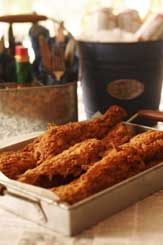 Related Recipe Categories
Main Dishes

| | |
| --- | --- |
| | Karin Calloway is a working mom living in Augusta, Ga., with multiple freelance jobs and a ton of dirty dishes. |