Karin's Secret Baby Back Ribs
by
I'm bit of a "reverse sexist" when it comes to grilling. In translation, I usually let my husband handle this chore. The exception to this rule is cooking up baby back ribs. That's when I become the queen of our Viking Outdoor Chargrill.
I began toying with rib recipes about 15 years ago, when a friend from Chicago related his recipe for parboiled baby back ribs. Parboiling took the mystery of tenderness out of the rib equation, so my next task was to add flavor to the ribs.
The first flavor step is basting the cooked ribs with a paste of barbecue rub, red wine vinegar and Worcestershire. The paste tastes overpowering on its own, but trust me, once you sauce and grill the ribs, they are flavored to perfection. Look for a prepared barbecue rub at your favorite supermarket or gourmet store, and be sure to taste the rub before using, as some are extremely hot with ground cayenne. You can prepare my homemade pork rub* by following the recipe below.
Since the spice paste is so flavorful, you want a barbecue sauce that is subtle and sweet. A bottle of prepared barbecue sauce and a cup of honey are my secrets, but when brushed over the piquant paste you have the perfect combination of flavors. Since the ribs are already fully cooked, reheating them on the grill for about 10 minutes per side is all you need to get them hot and smoky flavored.
3 slabs pork baby back ribs, washed and dried
1 cup barbecue rub (see below)
1/4 cup red wine vinegar
1/2 cup Worcestershire sauce
1 16-ounce bottle barbecue sauce
1 cup honey
Place ribs in a large Dutch oven and cover with water. Bring to a boil, reduce heat and simmer until tender, about 45 minutes to 1 hour, until they can easily be pulled apart but are not falling apart. Remove and place on baking sheets that have been lined with foil to cool slightly.
Combine barbecue rub with red wine vinegar and Worcestershire sauce. Brush evenly over both sides of the ribs. (The ribs can be prepared ahead up to this point and covered and refrigerated.)
Preheat grill on high for 5 minutes, then reduce heat to medium. Combine barbecue sauce and honey and brush over ribs. Place ribs on the grill and cook about 10 minutes per side, to heat through. Pass remaining barbecue sauce at the table.
Makes 6 to 8 servings.
Barbecue Rub
4 tablespoons paprika
4 tablespoons salt
3 tablespoons ground black pepper
4 tablespoons brown sugar
2 tablespoons ground dry mustard
1 tablespoon ground cayenne pepper
1 tablespoon granulated garlic or garlic powder
Makes about 1 cup of rub.

Print This Page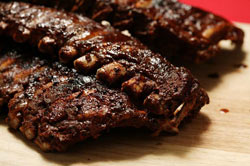 Related Menus
Summer Barbecue
Related Recipe Categories
Main Dishes

| | |
| --- | --- |
| | Karin Calloway is a working mom living in Augusta, Ga., with multiple freelance jobs and a ton of dirty dishes. |